Have a Blast on the Christmas Eve with VR Bangers' 8 Naughty Elves!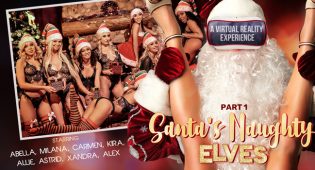 And what exactly is the Christmas about? Spending time with your family while eating food and giving presents? Singing Christmas carols in the festive atmosphere, while enjoying the unique spirit and relaxing after a hard year? And maybe Christmas is all about the magic and making your deepest hidden dreams come true? After all, in this time of giving, everything could happen if you really, really want it.So is there anything that you have always wanted to get, but Santa has never risen to the challenge and you only kept on getting disappointed? Perhaps this year it is about to change thanks to VR porn!
Having that in mind, one of the premium VR porn movies makers, Virtual Reality Bangers, have just recently released their latest VR porn fantasy that is all about making the dreams of their fans come true. Even if you don't believe in Santa and do not expect to receive any gifts from him this year, you should know that this top-quality company has paid him a visit this year and helped him out with preparations forsome of the kinkiest letters received from horny men. With not one, or two, but eight sexy helpers – namely Carmen Caliente, Allie Nicole, Astrid Star, Xandra Sixx, Milana May, Kira Noir, Abella Danger and Alex More – this year the Santa will be very, very busy while checking the quality of the presents he is about to give – and all this sexy "tryouts" can be watched in 6K ultra high definition in the latest VR porn scene called"The Santa's Naughty Elves".
"Doing such a numerous VR porn scene is always fun, and not to mention that our girls really enjoyed the atmosphere of the Christmas VR porn movie," says Xander Jones, the Producer of Virtual Reality Bangers. "With all these letters, ideas and the girls' huge contribution to everything that was going on the set, eventually we have received a whole lot more of footage than we initially expected, and created not one but two VR porn films that day. First one of them has been just recently released, with 7 of 8 girls spicing things up and preparing our fans for the grande finale, and the second one is about to be released in the New Year – being an epic conclusion of everything that's happened already."
Since none of us is a child anymore, obviously the requests sent to Santa this year are quite different from a new console or a RC truck. Instead of these, the girls will be preparing themselves to present some sexy services like doing blowjobs, footjobs, spanking, striptease or even masturbating and playing with dildos. Since VR Bangers' Santa really does not want to disappoint any of guys that decided to send him a letter this year, he will have to check all these talents of his sexy elves one by one – and he is about to do that in front of Virtual Reality Bangers' realistic 6K UHDVR porn camera.
You can watch this latest VR porn scene by going here, or you can simply go to makers' main page over here to browse through all their VR porn films in both 4K UHD and 6K ultra high definition.
Comments are closed.