Boutique gonzo studio 'British Bukkake Productions' streets their latest model-feature 'The Corruption of Pixie Peach'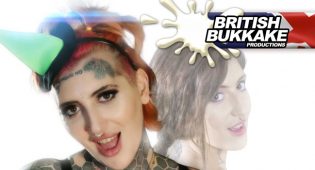 The latest in their series of 'The Corruption of….' titles features hot inked model Pixie Peach.
An accomplished businesswoman outside of adult, Pixie dabbled in modelling and working in the tattooed circuit and decided to take a walk on the wild side a couple of years back, shooting her debut scene with us.
"She came to us a bubbling bundle of inked fun, so enthusiastic now she'd taken the plunge and decided to go into adult" explains Director and Producer Robin Banks. "So naturally we couldn't wait to get something arranged with her. From that first bukkake session on she was hooked and ended up doing Fake Taxi and a whole lot more with us, which we're stoked about."
"I suppose I've always had a bit of a naughty side. An exhibitionist? Sure. More than that though. I love sex, love it with girls, guys and the more the merrier for me. Bring it on!" Chuckles Pixie.
'The Corruption of Pixie Peach' features Pixie Peach, Queenie B, Leanne Moorehead and introduced Maddison Black. For box art and cast list click here Contact British Bukkake Productions at; 
email: admin@splatbukkake.xxx twitter: @splatbukkake
Contact Pixie Peach twitter: @PixiePeach2
For DVD sales, contact exclusive distributor: Erigo Distribution Ltd, Office 1 Floor 1, ABS Group, Spring Lane, Forest Gate, BH24 3FH, United Kingdom 
email: sales@erigogroup.com tel: +44 (0)1932 219 800
For licensing and broadcast opportunities, contact Julian at Optime Strategies Ltd email: julian.becker@optime-strategies.com tel: +44 (0)870 005 6770
Comments are closed.