British Bukkake Productions Releases 'Cum-Faced Teens'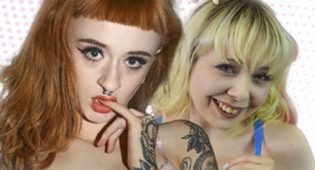 British Bukkake Productions announces the release of their latest DVD release, 'Cum-Faced Teens' now on general release.
Featuring a bevvy of hot young British models making their debuts including UKAP award winner Cherry English. The title also includes the first hardcore scenes of what became a historic breakout year for punk girl Azura All.
"This year we got lucky a few times with some red hot girls wanting to get involved with our smut" says Director and Producer Robin Banks, adding "Because they came to us, it was because they had a lusty itch they needed scratching, and threw themselves into become cum-faced supersluts with real enthusiasm"
'Cum-Faced Teens' features Azura Alii and Cherry English, along with Isabella Bangs, Jamie Rae, Maddison Rose, Classy Filth and Gina Lynn Jameson. For box art and cast list click here
Contact British Bukkake Productions at;
email: admin@splatbukkake.xxxtwitter: @splatbukkake
For DVD sales, contact exclusive distributor: Erigo Distribution Ltd 25A Lyon Road Hersham Surrey KT12 3PU
email: sales@erigogroup.com tel: +44 (0)1932 219 800
For licensing and broadcast opportunities, contact Julian at: Optime Strategies Ltd 
email: julian.becker@optime-strategies.com tel: +44 (0)870 005 6770
Comments are closed.