Celebrate the Independence Day with VR Bangers' Promo and Their Super-sexy Sorority!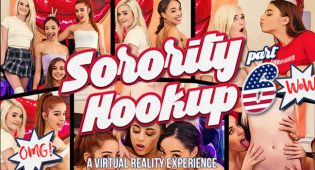 Last week we have told you that one of the premium VR porn movies' makers known worldwide as VR Bangers, have just recently introduced an epic continuation of their teen virtual reality porn saga called the Sorority Hookup. With part 5 of the series being released few days ago, the producers have just announced that they are surprising their fans with a double release – giving them all a follow-up in form of a sixth VR porn scene in the set – at the same time offering them a meaningful discount on their all VR porn services as a part of their latest initiative on the occasion of the Independence Day.
VR Bangers are known for being patriots and they have just finished their campaign – that was running through all three of their websites for multiple weeks – which was commemorating the America's army and both active, deceased and veteran soldiers. Now, when the Memorial Day/Armed Forces Day initiative has come to an end, the studio releases a special promo memorializing the Declaration of Independence of the USA– meaning the Independence Day promo active from July 1st to July 7th.
Apart from some lowered prices available on all websites being a part of VR Bangers' network (meaning VRBangers.com for straight adult content, VRBGay.com for homosexual VR porn scenes and VRBTrans.com for transsexual virtual reality porn videos), the studio has also released the aforementioned sixth part of their legendary teenage VR porn saga of the Sorority Hookup series. Gia Derza, Alexis Tae, Vanna Bardot and Chloe Foster are here one more time to finish the deal started in part five, and giving yet another serving of one-of-a-kind sexy VR porn fun in VRB's 6K UHD 3D VR.
If you have watched the Sorority Hookup Part 5 highlighted by us last week, then you should know that everything that you could have seen out there was only a "warmup" before the real fun that is happening inside of the part 6 – and now, when the girls are finally all soaking-wet and ready to reach the heights of their sexual capabilities, this last episode seems like a cherry on top of this VR porn saga.
"With adult industry talents like Gia Derza, Alexis Tae, Vanna Bardot and Chloe Foster, what could possibly go wrong?" asks Xander Jones, the Producer of Virtual Reality Bangers. "The scene is like a perfect culmination of our Independence Day's promo and we are super happy to release it within this meaningful campaign – and hopefully, every American patriot will appreciate our efforts and spend some time with our incredibly sexy and 'gifted' teen VR porn vixens."
Comments are closed.