Celebrate the Oktoberfest 2019 in BDSM Style and Meet a Sexy German Dominatrix in VR!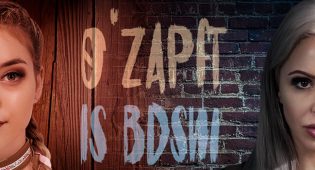 What comes to your head when you are thinking about the Oktoberfest? Beer, obviously – but what comes next? And what would you say for the BDSM-themed Oktoberfest in 2019? One of the premium VR porn movies' makers, VR Bangers – the company known in the entire world for introducing their VR porn scenes in up to 6K ultra high definition virtual reality as the very first in the adult VR industry – have decided to celebrate this German festival of beer and sausages (or so-called "kielbasas") in a little different "mood" this year – as inside of their latest VR porn video made for the Oktoberfest, the producers are going to introduce a true German dominatrix to all their fans!
It is not over of the VR Bangers' celebration for this year's Oktoberfest though, as the makers have also prepared a very-special discount for all their new and returning members – the promo that is a price drop in form of a BOGO (buy one get one) offer has just been activated on all websites of VRB's network(meaning VRBangers.com, VRBGay.com and VRBTrans.com). Apart from BOGO deals on 1-, 3- and 12-months long subscriptions of VR Bangers' websites, the producers have also activated a limited-time possibility of purchasing a lifetime membership for their premium services in a very bargain price. What is more, you can also attain a combo subscription on multiple sites of the makers – in a price that will be even more affordablewhen purchasing one of the VRB's bundles.
As soon as you will take advantage of this temporary offer or if you are already a member of VR Bangers' family for a while now, you will be able to watch the brand new BDSM-related VR porn scene mentioned above – the threesome VR porn video called "O'zapft is BDSM!" with Nina Elle and Anny Aurora. These two super-hot VR porn stars will become (respectively) an all-hardcore German dominatrix and her submissive slave – giving you a one-of-a-kind chance of joining their little trio and possibly making some of your deepest hidden sexual fantasies come true during the Oktoberfest 2019.
"Can BDSM be a leading theme of the Oktoberfest VR porn fantasy? Why the hell not!" says Roman Lit, the Producer of VR Bangers. "This year we were thinking outside the box a little bit and wanted to surprise our fans and members – and with a stunning, kinky and extremely hot performance of Nina and Anny inside of this VR porn scene, I am sure that we have succeeded with that!"
If the producer of VR Bangers managed to get your attention and you want to watch this VR porn movie as soon as possible in up to 6K ultra high definition 3D VR, you can do that after going over here.
Comments are closed.