Cherish the Chinese New Year in VR in a Way Sexier Than Ever Before!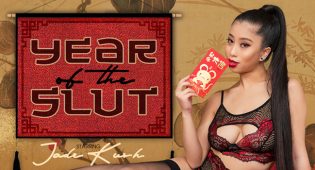 Perhaps you did not know, but in Asia people do not exactly celebrate the beginning of the New Year like the rest of the world. In countries like China, Singapore, Indonesia, Malaysia, Thailand, Korea, Vietnam and many others, every year people cherish the occurrence of Chinese New Year – also/generally referred to as Lunar New Year. This period in the Chinese calendar starting with a huge Spring Festival is about to begin this year – as January 25, 2020 stands for the inauguration of The Year of the Rat in Asian culture. Having that in mind, one of the premium VR porn movies producers, VR Bangers, have just released the Year of the Slut – their latest VR porn scene with extremely hot Asian VR porn star Jade Kush – to celebrate this event of the Chinese culture in their very own, VR porn-related and super-sexy style.
Inside of this VR porn fantasy, Jade will surprise you with a little gift – a lifetime membership on VRBangers.com – and together with it, she will want to show you how virtual reality porn works the best, helping you to strap your VR headset on and fucking you through VRB's immersive 3D virtual reality of 6K ultra high definition. This sexy Asian adult model has worked with VR Bangers in the past and she is fluent with performing in front of a virtual reality porn camera – so now she can introduce the convenience of this technology to you in one of the most pleasurable ways.
Wear your VR goggles and watch this brand new Asian VR porn movie to spend a quality evening with this mesmerizing VR porn star with perfect feminine shapes and wearing a super-sexy red lingerie for your delight – and let VR Bangers yet again surprise you with their premium VR porn content and while cherishing this magical time of the year for the Asian culture and, indeed, "enriching" your very own cultural knowledge in a way slightly more pleasurable than going to the museum or art gallery.
"Chinese New Year is a wonderful event all around the Asia, and hopefully our viewers from this part of the world or with Asian origins will appreciate our little latest effort," says Roman Lit, the Producer of Virtual Reality Bangers. "Jade has been prepared by us with taking care of the slightest details and hopefully being with her will at least somehow allow you to celebrate this magical sexy occurrence."
Watching the scene and joining Jade in her celebration is possible after going to this link and, as long as you have an active membership on VRBangers.com, you will be able to spend as much time as you only wishwith her during her little private VR porn Spring Festival.
If you, on the other hand, are not interested in the VR porn scene that has just been described by us and would like to watch an another VR porn movie from VR Bangers in up to 6K ultra high definition virtual reality, simply head straight to the producer's website over here.
Comments are closed.