Connor and Jay's Excellent Adventure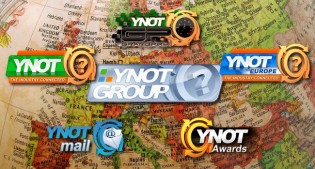 HOUSTON – Though it may sound like the title of a screwball comedy, Connor Young and Jay Kopita are taking "Connor and Jay's Excellent Adventure" very seriously. For the most part.
Between them, YNOT Group LLC President Young and Vice President Kopita possess about 30 years of experience in the online adult industry. Young, the business and technology brains of the outfit, and Kopita, the marketing and social muscle, will put their mettle to the test during this Fall's European show circuit.
"YNOT has made a lot of changes during the past year," Young said. "We're not just a webmaster resource and news outlet anymore. YNOT's new products and services have proven to make significant impacts on webmasters' bottom lines, and we're looking forward to demonstrating how those products and services can help others make more money by working smarter, not harder."
The first stop on the dynamic duo's whirlwind tour is Webmaster Access Sept. 20-23 in Amsterdam. YNOT is a sponsor of the show and will host a table during the event's popular Meet Market networking session. In addition, Kopita will moderate the Dating Trends panel taking place Sept. 22 from 11 a.m. to noon.
"Webmaster Access is one of our favorite shows and one of the best places in the biz to find business opportunities, networking and parties," said Kopita, adding that he and Young don't plan to miss a minute of the action. "We're arriving a day early in order to meet with YNOT.com and YNOTeurope.com advertisers, YNOTmail clients, and sponsors of the YNOT Grand Prix and the YNOT Awards. Reconnecting with past and present clients, as well as meeting new ones, is a big part of our itinerary."
As soon as the Amsterdam show wraps, the pair will head for Budapest and The European Summit, taking place Sept. 24-27. YNOT has been a TES sponsor since the trade show's debut and will host a meeting area where attendees may relax or inquire about YNOT's multifaceted operation. In addition, Kopita will moderate the TES Dating Panel from 11 a.m. to 12:15 Sept. 26.
The first two days of TES will be particularly hectic for Kopita and Young. The final YNOT Grand Prix race of 2013 will take place from 4-7 p.m. Sept. 24. Kopita said the circuit has been so popular during its fourth season that companies already are requesting sponsorship information for the 2014 season.
"Cities and shows for 2014 haven't even been nailed down yet," he said. "We expect the schedule to be similar to 2013's, with five races in four countries, and we're extremely pleased that the sponsors find the events such a good investment."
The winners of the third-annual YNOT Awards, the first peer-determined honors for adult's online sector, will be announced during an elegant dinner celebration on Sept. 25. More than 100 companies were nominated for 2013 awards, and the voting has been epic, according to Young.
"A record number of voters participated this year," he said. "We can't wait to see who wins.
"All in all, we're looking forward to this adventure," Young added. "YNOT has been around since 1996. YNOT.com was the original news and resource portal for adult webmasters, and we still provide those services. But we've changed over the years — grown and adapted with the industry. This isn't your father's YNOT."
For more information about the products and services offered by YNOT Group LLC, visit YNOTGroupLLC.com. To schedule a meeting to explore how YNOT's products and services can benefit adult businesses, email Young or Kopita.
Comments are closed.