CrakRevenue to Sponsor The European Summit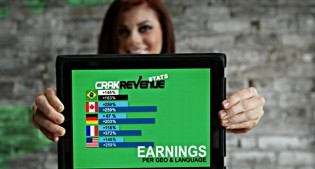 BUDAPEST (YNOT Europe Wire) – Quebec City-based CrakRevenue is proud to announce it will be a gold sponsor for The European Summit, a leading European business-to-business conference for the online adult entertainment industry. This year's event will take place Sept. 24-27 in Budapest.
CrakRevenu is a pay-per-acquisition network.
"We had a very good time in Prague last year," said Axel Vézina, vice president of monetization and a partner in CrakRevenue corporate parent Crakmedia. "The show was great, and not only for the good business we made but also because it was a very nice occasion for us to have fun with our friends and partners. So this year, we're looking forward to doing it again."
Vézina plans to attend the Budapest event along with Cramedia co-founder and President Nick Chrétien and Vice President of Tubes and Paysites Jason Rouleau. All looking forward to talking business, creating new partnerships, meeting colleagues, learning about the business and having a blast.
Anyone who would like to set up a meeting with the CrakRevenue team may email business@crakrevenue.com.
Comments are closed.