'Creating a Million Happy Moments' in 2016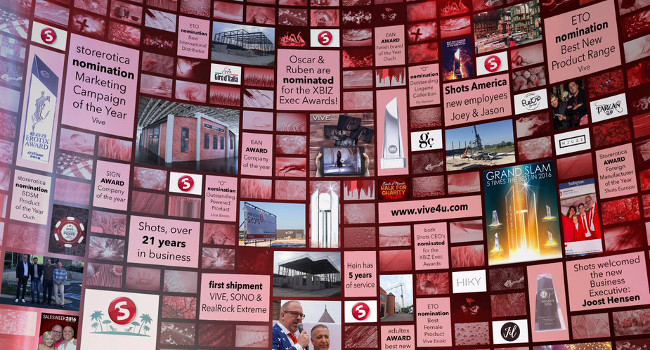 AMSTERDAM – In looking back at 2016, European publisher, pleasure products manufacturer and distributor Shots Media BV executives said they see an extraordinary 12 months.
Account managers Ralf Albers and Hein Schouten celebrated their 15th and fifth years, respectively, with the company. Staff additions included Joost Hence as business development manager for Shots Europe, Joey Teodoro as sales executive for Canada and the eastern United States, and Jason Miller as sales executive for the western U.S.
The year started with the company shipping products from SONO, RealRock and the award-winning VIVE for the first time. According to a statement, initial stock of all three lines sold out "almost immediately." Then, Shots introduced new brands JÌl, Hiky, Retro, Mjuze and Tarzan, along with 400 new toys from new and existing brands. In addition, the company's in-house design studio created 650 private label products for clients.
"Shots is, of course, known worldwide when it comes to organizing great parties for clients, and 2016 was no exception," a spokesperson said. The past year's merrymaking "started in March with the annual Shots International Poker Tournament, causing some thrilling moments in our Dutch headquarters."
The course for the annual Giro D'Italia cycling race ran right outside the Shots offices, giving the company another reason to throw a bash.
"And then there was, of course, the Shots Pré-Party and the Shots Party, organized at the beginning and end of the in-house sales week [in May] and in conjunction with the [100th annual International] Four-Day Marches Nijmegen," the spokesperson said. "This is always one of the highlights for the company and for our visitors from all over the world."
The Shots Party served as the launch for the Shots Charity Foundation, which later in the year donated €5,000 to Liedjesfabriek (in English, The Song Factory), which offers sick children a positive distraction through music and songwriting.
"'Creating a million happy moments' is the Shots motto, and we believe we did that this year," the spokesperson said. "We hope your year has been just as good or even better than ours, and that you have accomplished a lot of goals you set for yourself."
To keep up with the company in 2017, follow on Twitter or Facebook.
Comments are closed.