East Meets Far East on Brit Performer's Site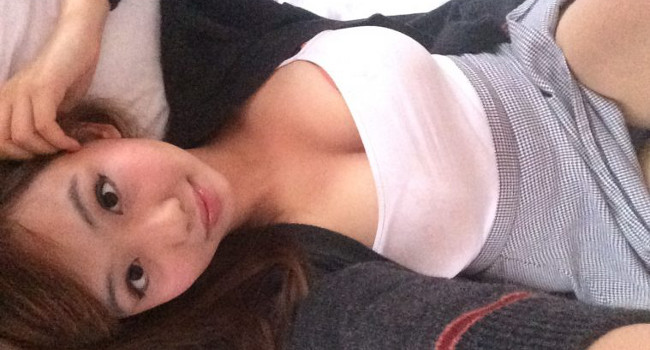 LONDON – Russian adult performer Gina Gerson has received positive reviews in Europe, not only for the way her innocent looks belie her fiery sexuality, but also for her joie de vivre, independent mindset and cheeky sense of humor.
British adult performer, cam model and blogger Harriet Sugarcookie has made a habit of collecting exclusive Gerson clips for her website, HarrietSugarcookie.com. The newest, a hardcore boy-girl scene, is the fourth in an ongoing series.
"When I met Gina in Budapest, my camera man and I were prepared to do only an interview, but she was clearly game for a good time, so we went for it," said Sugarcookie, who introduced fans to Gerson in June with "Gina Gerson Plays Connect Four By Her Own Rules." "Just like the Russians were accused of in this year's Olympics, Gina plays by her own rules to win…and we absolutely love her for it.
"Gina's combination of innocence and extreme is her appeal," Sugarcookie continued. "She's extremely youthful-looking and petite but is a very hardcore performer."
Sugarcookie's site mixes the teen performer's idiosyncratic interests with articles about pop culture, sex, sci-fi and fantasy films, fashion advice, food and entertainment alongside homemade amateur porn video clips and free cam shows.
Follow Sugarcookie on Twitter and Instagram.
About the Author

Marty O'Brien
Raised in the Appalachian Mountains of Kentucky, Marty O'Brien was the first of the O'Brien clan to obtain a college degree. A former sports journalist, O'Brien got a peek at the inner workings of the adult entertainment industry while on an assignment to cover the Los Angeles Lakers. He joined the YNOT editorial team in late 2010 and now specializes in technology , business news and ogling starlets.
Related Posts
November 20, 2020

by

admin

Russian porn star Gina Gerson will appear on cam for an exclusive Stripchat event — an early present to her many fans. The 29-year-old star […]

United Kingdom – Sex-positive men's lifestyle brand Sugarcookie.com, polled its readers and found 1 in 3 people have been catfished and a huge number of […]

London, UK –  Sugarcookie.com, the award-winning lifestyle site for men, has just released a collection of advice articles that focus on personal growth and self-improvement, particularly […]

London, UK –  Harriet Sugarcookie announces the selection of Russian adult performer Lilu Moon as Sugarcookie.com's Miss Sugarcookie for March 2018. According to Sugarcookie, who chats […]
Comments are closed.