Feel Patriotic and Celebrate Independence Day 2021 in an 8K UHD Threesome with VR Bangers!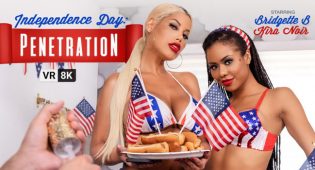 It was about time to celebrate your independence and feel like a true patriot, cherishing the freedom given to you by the United States of America and appreciating all the conveniences that you have thanks to the American ancestors who have fought for you to have your rights yet again. Independence Day is one of the most important public holidays in the USA and even professional VR porn producers like VR Bangers love to celebrate it every year – and so they did in 2021, releasing their latest virtual reality porn experience being a parody of a world-famous Hollywood movie.
If you are a fan of VR Bangers for a while, you probably already know that they love to produce a, for example, threesome VR porn scene to celebrate everyimportant occasion like Independence Day – yet since they kept doing that for years now, it is a challenge for them to come up with something new, and thus this year they have reached for something funny, unique, and incredibly sexy.
Independence Day: Penetration is VR Bangers' newest threesome VR porn video inside of which you will get to celebrate this special occasion with two wonderful ladies – Kira Noir and Bridgette B. You will be sitting by the table, getting ready for the feast, when you will hear the following notice: "Attention. The President of the United States of America has declared a state of emergency. An unidentified flying object has entered the Earth's atmosphere. The United States government has determined it has hostile intentions. THIS IS NOT A DRILL. If you are indoors, stay indoors. If you are outdoors, seek immediate shelter in a building. Remain indoors far away from windows. We will announce when the threat has ended. THIS IS NOT A DRILL. Take immediate action measures."
"Aliens attacking our planet.… WHAT THE F*CK?! Yeah, you heard me right – and if you have ever watched one of those Independence Day Hollywood movies, you should already know what gave us an inspiration for this high-definition VR porn movie," explains Ivan Harbakon, the Producer of Virtual Reality Bangers. "So, what is going to happen now? It is only you, Kira, and Bridgette – possibly about to die really soon. What can your three do?Well, this could be your very last chance for doing stuff that you have never had an occasion for… and have you ever had an interracial threesome? Yeah, you should understand what this newest VR porn video is about… Wear your VR goggles and have fun during the celebration of this super-important day together with us and our hot girls!"
If you want to feel patriotic as soon as possible and join Bridgette and Kira on behalf of this latest VR porn scene during Independence Day 2021, make sure to go directly to this virtual reality porn video in 8K ultra-high-definition as easily as after visiting this link.
And to learn more about these premium VR porn producers, make sure to visit their main page here.
Comments are closed.