Is Karma Rx a Bitch?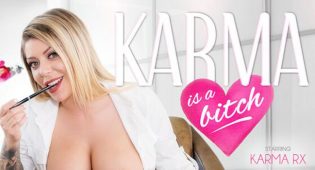 Europe – A lot of people tend to say that karma – the spiritual principle of cause and effect where intent and actions of an individualinfluence his or her future – is indeed a bitch. Do you agree with that? Have you ever been punished by this invisible force and you do not actually like to "fuck" with it? Well, fasten your seatbelts, since one of the premium virtual reality porn makers, VR Bangers, have just done something exactly opposite in their newest VR porn video called "Karma is a Bitch".
This immersive VR porn fantasy recorded in full 6K ultra high definition and in 3D 180 degrees is the result of cooperation between the studio and one of the sexiest blonde pornstars in the entire business – Karma Rx – in which she is ready to do pretty much everything that will be required from her to ensure herself her dreamed-of job.
"Karma Rx is a beautiful woman and we, at VR Bangers, were actually really happy when it turned out that we will have the opportunity to work with her," Alex Nash, the producer of VR Bangers explains. "This amazing and utterly talented adult movies' performer is like a forbidden hardcore fantasy for a lot of guys, and even if you somehow have not heard of her before, we are more than sure that you are gonna fall in love with this burning angel as soon as you will see her in our newest VR porn film."
The idea for the story in this movie is, as befits the VR Bangers, quite interesting and surprising, while offering the fans of this website the opportunity to experience something that for many of them would not be possible in real life. Wearing your VR headset will transform you into the powerful and influential writer who is looking for an assistant to help him with writing his newest book – and that is the aforementioned dream job that our sexy Karma will do pretty much everything to get.
"Even though Karma is a rather hardcore type of a lady who would not easily let the others dominate her, somewhat we thought that she will do just great as an obedient assistant in this VR porn fantasy," Nash adds. "She exceeded our wildest expectation and turned out to be a natural talent when it comes to 'currying favor' of our horny members – we are more than happy that we chose her for this role and we hope to work with her in the (possibly nearby) future."
Will Karma Rx turn out to be a bitch? Or maybe a submissive slut that is willing to do just anything that the VR Bangers will ask her for? Watch this VR porn movie on the producers' website over here to find that out on your own – and for once in your life do not be scared to actually "fuck" with Karma, as tonight you will be the one who will be in charge of her.
For more VR porn videos from VR Bangers visit their official website over here.
Comments are closed.