Kendra Lust becomes the viewers MILF gilfriend in latest VR Bangers scene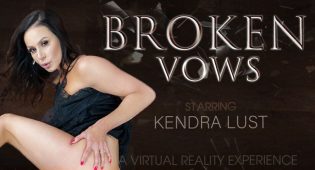 Europe – If you have ever had an occasion to celebrate the anniversary with your girlfriend, you probably do already know how complicated these things can get. The entire organization of such an event can take a lot of time and resources, and if your female partner will not be satisfied with your efforts, the evening will end in a less pleasant way than expected. VR Bangers have come with a solution to this problematic issue, dealing with the organization of the next anniversary of all their fans in their latest VR porn movie with incredibly sexy MILF Kendra Lust – introducing the Broken Vows VR porn fantasy!
In the newest virtual reality porn video from VR Bangers, these premium producers have organized the entire evening for all their members – even though it will start off with a romantic dinner, in no time it will turn into a regular VR porn scenario with a lot of fucking, sucking and a gigantic cum shot in the end. In this 6K UHD VR porn video, one of the most beautiful MILF VR pornstars, Kendra Lust, will play the role of a girlfriend of every horny follower of the VR Bangers' website – wearing your VR headset will magically teleport you right in front of her to have a blast in the presumably the best evening of your entire life.
"Have you ever thought how could your life beif you were dating a pornstar? VR Bangers will give you the answer to this question in our brand new VR porn video," explains Alex Nash, the producer of VR Bangers. "Every member of our VR porn family will have a unique occasion to spend the entire evening with our incredibly beautiful Kendra, starting from a romantic dinner, and ending up with… something way more pleasant and satisfying. And I am sure that you already know what I mean."
In the Broken Vows VR porn video, aforementioned Kendra Lust put in a whole lot of work in the organization of the evening and expects you to commit as well, to crown the anniversary together with her and end it in the most enjoyable way – with her riding on your dick and moaning and groaning out wildly. Whether or not this "date" in virtual reality will go this way depends only on you – all you have to do is put on your VR headset and visit the page of this brand new VR porn movie over here.
"We just wanted to let our fans feel how convenient could their lives get if they were actually dating one of our VR porn performers," Nash adds. "Our girls are horny 24/7 and can literally do some miracles to your dick – after all they're professionally pleasing all the horny men in front of our virtual reality porn camera – so the VR Bangers have taken care of the entire organization of this evening, making sure that it will end up with no other but the most satisfying of all conclusions."
You can visit the official website of the VR Bangers here.
Comments are closed.