Kendra Spade Has a Broken Heart? Perhaps You Could Do Something About It…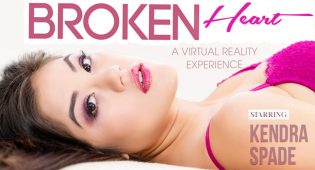 Have you ever cheated on your girlfriend? Honestly speaking it is never a right thing to do, but when being in a 1-on-1 situation with a super-sexy girl in a club or a private lounge… sometimes it is really hard to stay loyal. One of the premium VR porn movies' makers, Virtual Reality Bangers, do know that for sure, and thus came the inspiration for their latest VR porn fantasy called the Broken Heart with Kendra Spade – even though the girl is extremely beautiful, somewhat the main character of this VR porn experience has cheated on her, and now it is the time for her to understand why.
"The idea for this VR porn movie came out to our heads almost by an accident, as something relatively similar has happened to one of our co-workers," explains Xander Jones, the Producer of Virtual Reality Bangers. "The aforementioned guy has cheated on his girl with a young slut that he has met on a party, and apart from all the rage and disappointed expressed by his leaving girlfriend, she has also done one more thing – as she simply had to understand how come could this happen."
It is relatively safe to say that you can never fuck too much, but not every girl can understand that. In the following VR porn scene, our beautiful Kendra believes that if you have decided to visit another pussy, then there must be something wrong with hers and she has to understand what that is before proceeding with her life. This pretty much means that even though you are about to leave each other's lives forever, there is one last banging waiting for the every member of the VR Bangers' family – after all, the girl really needs to prove something and will not allow you to finish with her like that.
"Kendra is a great actress and she played her role flawlessly," adds Jones. "Even though she has never had a situation similar to one inside of this VR porn scene, she could successfully impersonate it in a really natural manner, thus playing her part better than we expected her to. And if you liked her acting, then you will fall in love with her fucking…"
This one last sex is about to be wildest and kinkiest that everything she has ever done with her boyfriend before, as the girl is really determined to prove that she is no worse than other sluts and can be as filthy as them if she wants. This mean some hardcore gagging on a cock and even harder fucking in the true VR Bangers' style – which is a really nice thing to watch, especially that it all happens in full 6K ultra high definition.
To check that on your very own eyes, make sure to watch this latest VR porn scene over here, and if you are interested in other VR porn movies from Virtual Reality Bangers, head straight to their main page, here.
Comments are closed.