Is There Life After Porn?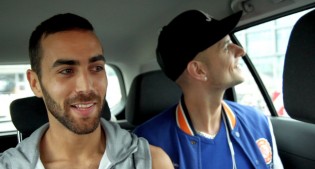 BERLIN – The dimensions of former gay adult performer Fostter Riviera's penis were his claim to fame, his ticket to success and his entry to a lifestyle he ultimately decided to abandon … if he could.
The measurement, 21×7 (centimeters), has become the working title of a documentary about Riviera's determination to return to the real world and his real name, Sydney Fernandes.
To complete the project, German filmmakers Thomas Krauslach and Steffen Krüger plan to follow Fernandes for the next year, documenting his life 24/7 as he tries to make a permanent break with an industry and fans that may be unwilling to let him go. The filmmakers have established a website and a crowdfunding campaign to assist in the endeavor.
YNOT Europe: What set you on the course of making this documentary?
Thomas Krauslach: We are two guys from Berlin who started to make films a few years ago. I made the film Betten-Seifert ist tot, and in the two years since we have worked on a project to make a queer movie.
Last year we shot for a project where one of the actors was Sydney Fernandes. We knew that he was a porn actor, but we recognized that he is a very special person. So, we talked to him a lot and he told us his story about the porn biz, about drug experience, and we saw his self-presentation via Facebook, Twitter and Cam4.
In the spring of this year, he told us he had decided to leave the porn business and wanted to move into a new flat with his boyfriend. We thought this would make a good documentary about someone who did nearly everything imaginable to leave behind sex and publicity and assume a private little life.
What have you learned so far about Fostter Riviera the gay porn performer and Sydney Fernandes the man?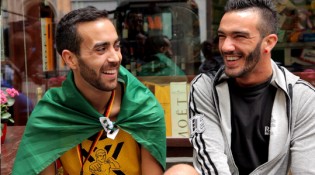 Steffen Krüger: Sydney invented Fostter Riviera more than four years ago when he was in his native Portugal and made his first sex shoots in front of his webcam. In the following years, Sydney learned that Fostter could make a lot of money and get a lot of applause.
Sydney moved to Berlin, and Fostter Riviera grew and became a big "brand" in the gay porn business because of his dick-size — 21×7 cm — and because he was doing bareback scenes.
Gradually, Fostter began to overwhelm Sydney, who had no time to be himself anymore because of all the shoots, the live shows and the cam sex. Fostter had a lot of followers and online-friends, but none of them knew his real name. When he was at home, he was alone.
Beyond the porn and sex, his life in Berlin became tied up with drugs including crystal meth, and Sydney virtually disappeared under all of that. At a certain point, Sydney broke free of the loop of drugs and sex and moved to Cologne to start a new stage in his life.
When Sydney found his new boyfriend, he had one more reason to make an end to his public sex career and to reclaim his life from Fostter.
What will the documentary reveal?
Krauslach: The documentary will show the gay porn scene, how it works and what is behind the scenes. The world of Fostter with his fans, the merchandising and the publicity will be shown. Sydney will explain how he got into the porn world, how he lived there, why he needed to get out and why it is so hard to get out.
Further, we will show his new life with his regular work, his friends in Cologne Germany and the development of his relationships. We are going with Sydney to Portugal, where he will meet his mother the first time after she found out he became a gay porn performer. In Portugal we will also see his roots, his family and his oldest friends, who have known him since he was just a little guy from Porto.
Have you begun shooting?
Krüger: We already shot some interviews with Sydney. Part of the footage can be seen in the trailer for our crowdfunding campaign. We filmed some footage at his last porn shoot in June and while he was visiting the Berlin Gay Pride festival with his now-ex-boyfriend.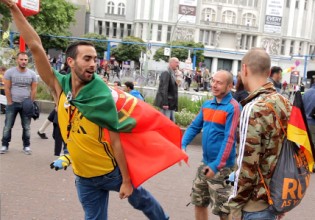 How well has the crowdfunding campaign gone?
Krauslach: The crowdfunding campaign will run until the middle of September, and we need all the support we can get to make this documentary come true. After the campaign, we'll still accept donations via PayPal on our website.
What do you hope to achieve with this documentary?
Krüger: We hope that in the end we have an honest documentary about the huge impact of sex and drugs in our society, with a portrait of young man who can be seen as symbol of our time. In a world full of sex, he had a stellar career. In the cyber-world, he invented an alter ego that took over for the real him. But in the end, he is looking for someone who loves him for who he is, like everyone else.
We hope that after one year we can show someone most viewers can identify with, although the life circumstances are totally extraordinary. Maybe we can show Sydney's search for a new boyfriend who isn't aware of the existence of Fostter Riviera. Will Sydney be able to find a new love that survives the porn impact in his former life? Will he be able to beat his demons from the past?
Comments are closed.