Hustla Ball Makes Changes for 2015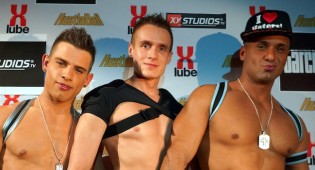 BERLIN – A new set of rules will prevail now that a new producer has stepped in to run the annual Hustla Ball gay porn awards.
The seventh annual event, set to take place 16 October at the KitKat Club in Berlin, will be helmed by Fostter Riviera Productions. Riviera is a gay adult performer and director.
In addition, only Europeans and European companies may be nominated. Nominees will be selected by industry professionals.Among the changes for the 2015 ball: studios may no longer be sponsors, but they may participate. Riviera said the change was designed to prevent obvious potential conflicts of interest.
"We do respect non-European studios," Riviera said. "However, it is time to allow access to European professionals only.
"It is time to make it realistic and empower what we actors respect most: the awards," he continued. "For us the porn awards are recognition of our work during the past years and is equally the power of our fans. That's why I decided to accept this challenge and stop shooting movies during this year, so I can focus completely on this event and put it back on the gay porn route.
"It is work that is worth it because we all love to get awards, but more importantly, to get them with transparency and honesty."
Comments are closed.