Lovita Fate Shines in the Sensual Strip – The Newest Reality Lovers VR Title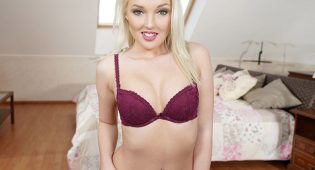 Bratislava, Slovakia – Reality Lovers releases new VR scene starring newcomer Lovita Fate first-time ever in VR. Lovita Fate is not just another pretty face in porn. This petite, all natural blonde has a ravenous appetite for filming and was born to perform. This makes her every appearance something to behold. Especially given that she is a newcomer with great star potential.
With an attractive shape, the face of an angel and trademark blond hair, she is that kind of actress that most men would write home about (if they could). Her most ardent fans even admit that she wields that kind of power that makes men ꟷ and even some women ꟷ  forget all about their "preferences" in a sex idol.
It is not only because Lovita has the perfect buttocks and legs, and she is all natural. She's got a set of cute 32AA size breasts and there hasn't been any ink, silicon, or metal added, save a mini belly button piercing. In her rather brief career to date – since 2017, Lovita has been credited with appearing in mostly hardcore scenes, followed by reality, which places her niche among the more traditional performers.
In Reality Lover's latest release Sensual Strip (available May 2nd), Lovita is in the perfect mood to reward her man – just by using her body of a goddess, coupled with some serious strip-tease skills. The writers and the people behind the camera have kept the plot to a minimum to enhance the intimacy of the scene even further. The scene opens up with a classic striptease to build a perfect erotic suspense. As she entices her man (if watched in POV mode – YOU), it becomes clear that she is ready to pull out all the stops.
As the lace panties come off and she grabs a hold of your rod, gently stroking it, you almost die ꟷ the result of extreme arousal overload. You almost kick the bucket for the second time as she hungrily guides it inside her. Next, brace yourself as she rides you relentlessly reverse cowgirl style until you are about to lose your mind.
Even though Sensual Strip only hints at what it delivers ꟷ it becomes the irresistible catalyst that turns the heat on the set past the way of no return. Coupled with Lovita's off-the charts attractiveness and sex appeal, this take of the art of the striptease will take you to Lovita heaven and keep you in her orbit!
You can watch the scene here or directly on RealityLovers.com.
Comments are closed.