Lucky Labor Day Special Weekend – allows members to earn their money back!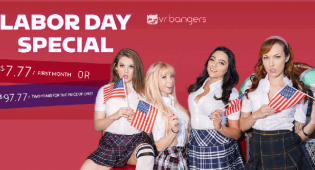 Soooo… the summer is over and the most favorite long weekend is upon us! Let's hold off the Autumn Blues and just dive right into the staying at home: BBQing, beer drinking, game watching, chilling with friends – LABOR DAY WEEKEND! And what kind of a company would VR Bangers be, if they didn't do something special in the spirit of the Holiday! The firm's management was pressured by the staff to run an unprecedented rate deal and offer the first month of the new subscription at the 77% DISCOUNT! So, any new visitor that heard the hype, but was on the fence as to giving this major VR Porn luxury vehicle a try, will have no excuses to spend some private time perusing the content and making a good use of it!
This is what you get:
THE BEST PORNSTARS IN THE WORLD!
Unlimited Streaming Capabilities.
Proprietary VR Player app.
Access to All New Releases.
True 360° stereoscopic virtual reality 3D in 4K and 6K resolution with immersive binaural sound and realistic head tracking tech.
Unlimited Downloads.
Unlimited Access to Model Photo Galleries.
Compatible with Oculus, GearVR, HTC Vive, PSVR, Daydream and all smartphones.
What is the best thing you can do with a Quarter? Flip it?
Heads or tails – doesn't matter, you win either way! For 25 cents a day, anyone can get the Full Access Pass to the leading providers of Adult VR Entertainment. This is like getting a Bugatti for the price of a Corolla!
And the Existing Members – don't despair! To show their love and appreciation, VR Bangers are offering the Two for One Annual Subscription at $97.77 – it doesn't get any better than this! And just when you thought it was enough, VR Bangers are taking it a step further.
"VRB will let you earn all your money back!"
VR Bangers will grant any existing or new members a chance to not only earn the money they spent on their entertainment site back, but to even make more side revenue for themselves.
With an open access to VRBCash.com, ANYONE can become an ambassador of VR Bangers and their favorite Pornstars! It's FREE to sign up and fully customizable. This site is the LIFE's fringe benefit created by a team of ingenious producers, designers, programmers, and visionaries, and it's a good time to turn one's "private" hobby into a Money Making Activity!
Comments are closed.