Luxeluv's Memphis: Jackin' to the Beat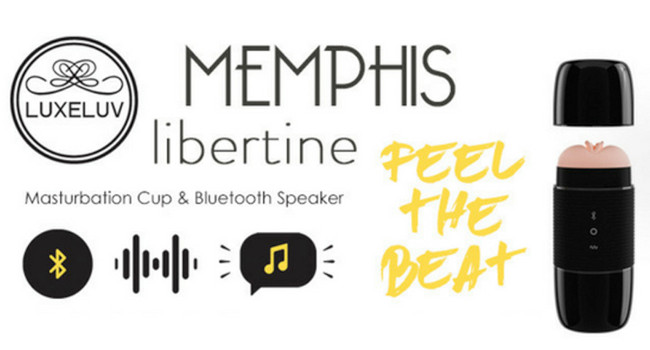 ZWAAGDIJK, Netherlands – Elvis may have left the building, but he and his music live on in Memphis, Tennessee.
Music lives in another Memphis, too: Luxeluv's Memphis, a masturbation cup with integrated Bluetooth speaker. Now when the music moves you, it can really move you thanks to synchronized vibrations.
Part of the Libertine men's selection of toys in Luxeluv's Destinations range, Memphis is stylish and durable. The removable, fully washable vaginal sleeve is composed of body-safe silicone and attaches to a small-but-powerful vibrator with multiple speeds and vibration patterns. The exterior cup is squeezable, allowing users to adjust the suction to their liking.
The whole thing is magnetic-USB-rechargeable, and there are no external clues that the device is anything more than a high-tech, portable speaker. Connect via Bluetooth or cable and enjoy your favorite tunes … in more ways than one.
"Memphis is the ideal gift for bachelor parties, boyfriends or just that dude you know who literally has everything except, probably, a speaker you can jack off into," a company representative said. "Always down to get down, sonically or sexually, Memphis is the multitasking male masturbator that proves sometimes a novelty item can be both fun and very, very effective."
Eropartner Distribution represents the product. For more information, visit Eropartner.com.
Comments are closed.