In a Mood for a Tennis Match but It's too Cold Outside? Do It in VRwith Nina Elle, Then!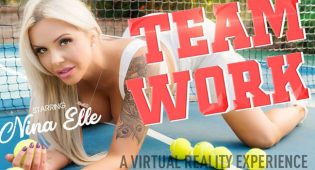 Regardless of whether you agree with it or not, the statement that sport is healthy is an actual and scientifically proven fact.On the other hand, though, active and regular participation in a sport discipline can be very oft-injured, not to mention the fact that it devours a whole lot of time, which today we are lacking more and more. What's more, the winter is fast approaching and the weather will only be even worse outside – and the temperatures are getting lower and lower, which is not particularly conducive for an active lifestyle.
Fortunately, some time ago someone had that great idea and came up with an invention of virtual reality, and these days you can do pretty much everything without even leaving your apartment. Today, wearing your VR headset will allow you not only to participate in any sport discipline in the world, but also do that in an incredibly sexy way – and all thanks to some premium virtual reality porn movies' makers, VR Bangers. In the latest VR porn video from the studio, called the Team Play, the company has put a lot of work to ensure that each of their members could play the sexiest tennis game in their lives – and all of which alongside one of the most beautiful MILF VR porn stars, Nina Elle.
"Nina loves playing tennis in the real life, so she was actually glad when we pitched the idea to her for the first time," says Xander Jones, the Producer of Virtual Reality Bangers. "She is one of the hottest mature VR porn stars – and one of the most beautiful blondes, too – so a lot of our fans kept asking for her comeback, and sooner or later we had to shoot another VR porn movie with her. Thankfully she agreed to star in the Team Work VR porn video – even though this is the second time when we produced something with her, she's never performed in front of a 6K UHD virtual reality camera before, so we are glad that she can be finally admired in her full glory with such an enormous amount of pixels."
Nina Elle is indeed one of the most beautiful and experienced blonde pornstars in the business, so playing a match of tennis with her in VR is a great opportunity for every member of the VR Bangers' family. Since the producers are known for their epic happy endings, regardless of the match outcome, every single of their horny fans should get what he came for –which is ensured by the satisfaction provided by over 200 of VR porn films produced by the company in the past.
To watch this latest VR porn video simply go over here, and if you are interested in other VR Bangers' adult movies in virtual reality, head straight to their main page, here. Their library consists of few hundreds of immersive VR porn scenes – all of them produced in 4K ultra high definition at minimum, and going as high as to 6K UHD, providing some excellent lifelike experiences.
Comments are closed.