Olive Glass Invites You for a Private Tour de France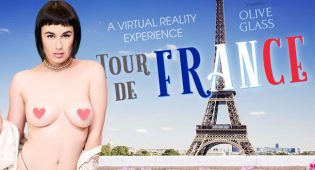 Salut l'ami!So… you have no idea what we just said? Do not worry – not everyone has to speak French – but the fact that you do not understand the simply greeting suggests a logical conclusion: most likely you have never been to France! Would not it be great to visit thiscapital of baguettes, French kissing and… blowjobs? But the plane tickets are so expensive and trips to Europe can be so intimidating… Do not worry, as today someone has taken care of that for you – namelyone of the premium virtual reality porn movies' makers, Virtual Reality Bangers, and their beautiful stylish VR porn star, Olive Glass!
In the latest VR Bangers' VR porn video called Tour de France, queen of sophisticated taste and a real diva of VR porn, Olive Glass, will guide you through the latest studio's VR porn fantasy in the French style – a budget-friendly alternative for everyone who has always wanted to visit this romantic country, but has never gotten an occasion to. Thanks to the immersive virtual reality and 6K ultra high definition resolution offered by the makers, tonight you can get teleported to one of many beautiful Parisian apartments – and all of that without even moving from your favorite chair!
"Even though VR Bangers is an American company, with help of Olive Glass we had what it takes to create a unique French atmosphere," says Alex Nash, the producer of Virtual Reality Bangers. "The girl is a truly sophisticated French diva and she has it all when it comes to the famous French class – this newest VR porn movie of ours was an easy job from the moment of hiring this talented VR porn star!"
In the Tour de France VR porn film, Olive Glass will become a tourist inside of this charming country, looking for some sensual experiences with one of the locals that she has always dreamt of. With help of VR Bangers, every member of their community can now become the aforementioned native – wearing a pair of VR goggles, subscribing to VRBangers.com and clicking play are the only requirements to join Olive in her intercontinental sexual adventure! The girl will do whatever it takes to prove that American girls are also the experts in the field of "ars amandi" (the French art of making love) – at the same time making her dream of banging a Frenchman come true!
"France is known for many things, and even though we all like some French pastries, this VR porn movie is not about food," adds Nash. "French kissing is just a first step of this VR porn movie – we are not in the eighth grade anymore – and in only few minutes, our talented Olive will start the display of some other talents of her kinky pair of lips – we are sure that our members are going to love this newest VR porn movie of ours!"
Go here if you would like to watch this VR porn movie and see how talented Olive really is in 6K UHD, or here if you are interested in other VR Bangers' movies – there is over 200 of them to choose from!
Comments are closed.