New Options for Gay Mobile Traffic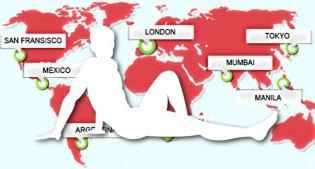 LONDON – Gay traffic networks seem to be where all the action is these days, judging by the number of new networks that opened during the first two weeks in July and the addition of new publishers to others.
According to Mark Bower, vice president for global gay markets at mobile advertising network Reporo, his company added nine gay publishers in July alone, and all of the websites sit at the top of Alexa's rankings.
"Our publisher lineup now features Adam 4 Adam, Manhub, Just Us Boys, Porn Hub Gay, Cam 4, Gay Tube, Got Gay Porn, Red Tube Gay, Rocket Tube and a long list of others," Bower said. "For our advertisers, this will mean improved quality of traffic, better conversion rates and increased sales.
"Gay consumers are leading the way and consuming more and more content on their mobile devices," he continued. "Research shows more than 68 percent of gay men have a smartphone, and they are more likely than other market segments to use those devices to consume adult content. This is driving a surge in demand for gay mobile content and advertising."
Reporo Gay brings together publishers and relevant advertisers in a blind cost-per-click network, Bower explained, adding that the network serves as many as 25 billion impressions per month via banners, pop-unders, re-directs and offers targeted by geography, device, operator, operating system and internet service provider.
Reporo serves the European Union, South Africa, India, the Philippines, Latin America, Japan and the U.S. For more information, visit Reporo.com/gay.
Comments are closed.