pjur attends "UIO Festival EROTICO" in Ecuador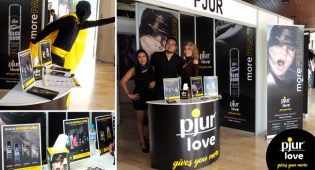 Pjur products were presented at the UIO Festival EROTICO in Ecuador for the first time. In the capital Quito, pjur's partner Posiviva showcased the products at an exclusive pjur stand. The pjur BACK DOOR and pjur superhero ranges were the highlight of the show. There was even a real-life pjur superhero on hand, who attracted visitors in droves to the stand. "The products and our pjur superhero, who is a well-known influencer in the LGBTI community, proved to be a great success," explains Fernanda Sandoval, Marketing Manager at Posiviva.
Over 6,000 visitors from the B2B and B2C sectors came to the erotic trade show, which was held for the second time in Ecuador's capital in 2018. "We already received a lot of orders on the first day, which was great. The second day then far exceeded all of our expectations. We are delighted to have the chance to raise the profile of pjur products here in Ecuador. I think this trade show was the perfect first milestone in this journey," adds Fernanda Sandoval.
You can find out more about pjur at www.pjurlove.com
Comments are closed.