pjur returns from a successful eroFame with three awards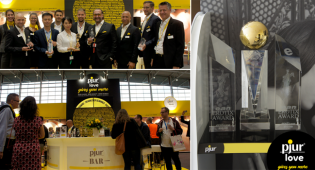 The pjur group won three awards at this year's eroFame:
A SIGN award for the "Best European Lube Company" and two ean EROTIX awards for the "Sexual Wellness Company of the Year" and for the "Best Marketing Campaign 'gives you more'". Alexander Giebel, CEO & Founder of the pjur group, is delighted: "Once again, the awards are a fantastic recognition of our work. We put a lot of heart and soul into what we do, particularly our 'pjur love – gives you more' campaign. It's great that the committees have also recognised this and we are now able to call ourselves the best personal lubricant company in Europe!"
The pjur group's motto for the year "pjur love – gives you more" was also reflected in the company's yellow booth at eroFame. Large poster walls showing images from the successful ad campaigns in Cosmopolitan, Playboy and GQ as well as two screens displaying the USPs of all pjur products and, of course, the traditional coffee bar with fresh espresso made the stand a real eye-catcher.
The three new products pjur WOMAN Aloe, pjur WOMAN Vegan and pjur WOMAN After YOU Shave were a particular highlight. pjur WOMAN Aloe contains moisturising aloe vera and is tailored to the pH level of female mucous membranes. pjur WOMAN Vegan is a vegan personal lubricant developed specifically for women, and pjur WOMAN After YOU Shave was created to protect female skin from infections and razor bumps after intimate shaving. "Our new products were extremely popular with visitors. Orders for the two new personal lubricants in particular significantly exceeded our forecasts. We've already had to start producing new batches," explains COO Ralph Ehses.
On Wednesday and Thursday evening, the company again made two winners of the traditional pjur competition very happy. This time, Stephanie Fedder from Orion Versand and Levente Kinter from Debra Net UFT each received a brand new GoPro Hero 6 camera.
Comments are closed.