Become a Pornstar Recruiter in the Newest VR Bangers' Video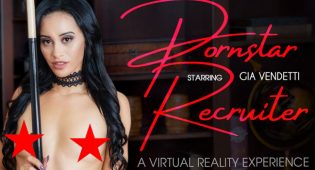 It is a fact that many of the people who like to watch some VR porn videos would like to try their luck in the adult movies' business – perhaps becoming a male pornstar or at least an agent,who is supposed to discover newsexually talented girls and introduce them to the industry full of very demanding looks of horny males.
One of the premium VR porn movies' makers, VR Bangers, known for the introduction of the proprietary 6K ultra high definition standard for their virtual reality porn productions, have decided to give their fans a one-of-a-kind opportunity to see the VR porn biz from their point of view in the Pornstar Recruiter VR porn movie – their brand new adult film in virtual reality with stunning Gia Vendetti.
"Many of guys would just love to shoot porn instead of just watching it, and we know that for sure," says Alex Nash, the producer of VR Bangers. "Even though most of our fans would have been surprised how troubling this business can sometimes get, we did not want to spoil the fun for them, introducing only the pleasant part of the process – and that is exactly what is the Pornstar Recruiter scene about. This is a unique opportunity for every member of the VR Bangers' family to have a taste of how fun can the life of a male VR pornstar get – we honestly hope that our followers are going to appreciate this little attempt of ours."
In the Pornstar Recruiter VR porn video, every VR Bangers' fan will get to become a widely-acknowledged male pornstar, famous for his legendary fucking skills and incredibly huge dick. Gia Vendetti, one of the developing adult movies' performer, will be the girl who is well-aware of these legends and simply could not miss such an opportunity – and since it will all happen in front of the virtual reality camera, thus this VR porn video was created.
"If you are about to watch this VR porn fantasy, do not worry – we took care of pretty much everything," Nash explains. "After wearing your VR headset, you will become a famous, sufficiently "gifted" and widely recognizable porn pro – and that is what will bring the Gia's attention to you. Since we told her about your legendary skills and talents when it comes to fucking, and she sees her opportunity to enter the pro league of VR porn through you, this little meeting between you two will be an undeniably enjoyable experience– and this is the VR Bangers' promise!"
This is one of the first Virtual Reality Bangers' productions made in their recently introduced 6K ultra high definition standard, and even though it is not a full 3D 360° VR porn fantasy, the 180 degrees combined with the incredibly high resolution makes it really realistic and immersive.
You can watch the Pornstar Recruiter VR porn movie over here, and for more VR porn videos from VR Bangers visit their official website here.
Comments are closed.