POV VR Head Rig Debuts at January Shows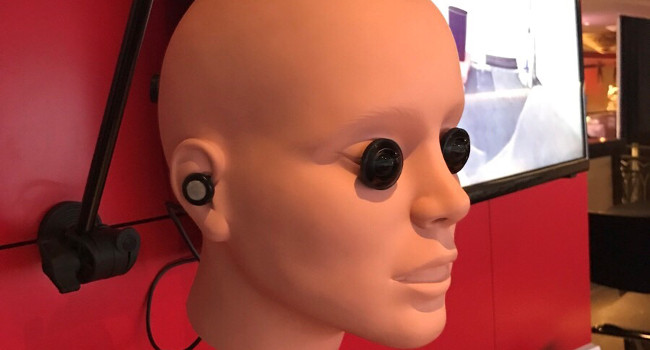 LOS ANGELES – A new virtual reality head rig designed to work with POV scenes debuted at the January adult industry shows. The company that designed the product, VR Bangers, believes the rig is the first of its kind.
"This rig was built especially for VR porn because we noticed there is a much warmer and more intimate emotional attachment between the performer and the recording device if the device itself is able to be kissed, caressed and whispered to in the same sort of ways that a real person would sense those subtle communications," explained Chief Technology Officer Boris Smirnoff. "It's easy to think performers will be able to overcome all the odd positions and constraints of filming content so it looks pristine on a virtual screen, but the fact is, the more we can help our models get the most out of their play space, the better our content will continue to be.
"The real winner in this line of advancements is always our fans," Smirnoff continued. "With the new VR Bangers POV Head Rig fans can finally feel like they are getting kissed and caressed while their favorite girls whisper right into their ears."
Rather than cradling a camera or a microphone and pretending to be engaging with a fictional love interest, performers wearing the new rig can work with as close an approximation of a human head as modern technology allows, according to Smirnoff.
"This is the first rig of its kind, anywhere in the world, custom built by our own R&D team," he said. "Stereoscopic cameras right where its eyes would usually be, true 4K resolution at a mouthwatering 60fps using multiple cameras in the front, back and top of the head to capture every angle, along with state-of-the-art binaural sound microphones in each ear to add a level of realism to each whisper, moan and shift in sound. "The content we are recording with this new rig is extraordinary, and the feedback our fans are giving us at the shows demonstrates that we are definitely moving in the right direction."
Smirnoff said his team thinks the technology has potential beyond adult entertainment, but so far the mainstream isn't listening.
"Our original intent was to include this new rig in the presentations at CES 2017, because we are confident it is one of the hottest new tech items to come out at CES in a long time," he said. "But the show didn't allow us in because they still think porn and tech are different or something. The truth is that porn has always been at the forefront of improving interpersonal technologies."
VR Bangers intends to demonstrate the equipment at several spring and summer adult industry shows. In the meantime, more information is available on VRBangers.com.
Comments are closed.