Have a Real One Night Stand with Vina Sky in 8K Ultra-high Definition of VR Bangers!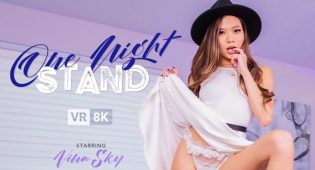 Have you ever had Tinder installed? You know, this dating/fucking app for one-night stands or friends with benefits kind of actions… Yeah, if you have ever tried your luck with it, you probably already know that it is not that easy to pick a whore using this app – and at VRBangers.com, the producers are making this way handier with the use of their latest VR porn scene.
One Night Stand is VRB's latest VR porn movie inside of which a super-hot and petite Asian VR porn whore, Vina Sky, will pay you a visit. Vina is a sexy girl that you found on Tinder and after chatting with her for a while, today is the day when you two are finally gonna meet. You are not sure what to expect but she asked you for the address quite confidently and she is on her way to your place already. As soon as she will reach you, it will turn out that this cute vixen has just ended up in a long-time relationship with her boyfriend and now she wants to fuck as many guys as possible… and today you are her cock of choice.
Yeah, you are one lucky motherfucker – now you just have to wear your VR goggles and start enjoying this VR porn video in up to 8K ultra-high definition. Vina is hot, her pussy is tight, and she wants to score you tonight (oh, how ironic, isn't it?) and you do not have to worry about anything. Grab your dick, take it out and just fuck her without thinking about what comes next – you are more than welcome to cum on her perfect little body!
"Vina Sky just likes to have fun, and she will prove that to you on behalf of her latest teen VR porn movie," says Ivan Harbakon, the Producer of Virtual Reality Bangers. "Inside of One Night Stand – our latest VR porn scene – we have turned an extremely popular fantasy into something that could have happened to every single one of us… and we boosted it up with a presence of our super-hot Asian vixen, Vina Sky. I think that we did great, and I can't wait for our viewers to let us know how did they like this little date with our hot petite girl!"
You do not believe us? Then wear your VR goggles and dive inside of this VR porn experience in 8K ultra-highdefinition on your own to check whether Vina is such a slut as we describe her – you will thank us later, sir! This always-horny VR porn vixen and her endless – and recently revealed – urgesfor a huge cock are waiting for you under this link.
And remember that you can always visit VR Bangers for even more top-quality VR porn content – now in up to 8K ultra-high definition – as the producers update their website with fresh virtual reality porn scenes at least a few times a week (here).
Comments are closed.