Reality Lovers Kicks Off Sexy Soccer 2018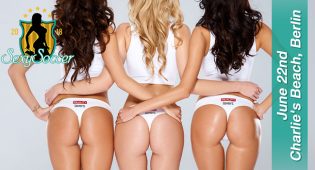 Cyberspace – Reality Lovers, leading VR adult studio catches the soccer fever! Just as the 21st FIFA World Cup in Moscow is underway, the company is participating in 2018 Sexy Soccer taking place in Berlin on June 22. Traditionally, this is the perfect mixer between the adult industry's loyal fans, influencers, amateurs and established stars.
And just like during previous events, Reality Lovers is going to the event with the perfect game plan.  First: assemble a star-studded team drafted from a cadre of young guns. This will ensure that visitors to its sector can feast their eyes on the talented actresses-come-sexy-soccer-players AischePervers, AnikeEkina, and Jolee Love.
By sending these Sexy Soccer ambassadors, Reality Lovers is doing its part to popularize virtual reality or VR as the main conduit for adult entertainment. To drive the point home, it has even prepared a special treat for their current and future fans ꟷ innocently titled "Come to Bed with a Pornstar."
An actual cabana bed has been delivered to the German capital and assembled by the Reality Lovers actresses on location ꟷ a Sexy Soccer first. Going into the championship, team RL is placing its bets on galvanizing its team in order to deliver a decisive blow to the competition.
Visitors to its booth (bed) will be able to snap pictures of themselves between the sheets with their favorite stars. Not just for bragging rights, but to enter a contest for the latest Oculus Go headset! Whilst in bed, those open to experimentation will have a unique chance to try out Reality Lovers exclusive virtual reality content, assisted by their lovely bed coaches. The hope is that once they go VR, they will put their old way of adult entertainment to bed.
We hope to see you at this year's Sexy Soccer for the 2 pm kickoff! If you can't make it, you can follow us on Instagram @realitylovers and Twitter @Reality_Lovers ꟷ for a steady barrage of sexy pics, interviews, backstage materials and much, much more.
Comments are closed.