Do You Need To Relax? Time for a Massage with Two Sexy Girls in Immersive 3D VR!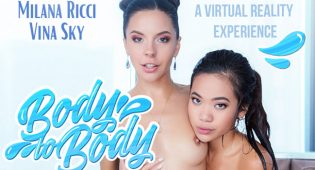 Have you ever heard about something called a Nuru massage? This fancy name might not mean too much to you, but one of the premium VR porn movies' makers, VR Bangers, have just released their latest super-juicy and all-wet lesbian VR porn fantasy about this incredibly pleasurable way of physical contact – and now, as long as you are one of their members, you can get to know it better than ever before and as close as it only is possible without leaving your favorite chair; all thanks to the immersion granted by 6K ultra high definition virtual reality offered by these world-famous producers!
Too explain this phenomena to you at least a little bit, you should know that a Nuru massage is a Japanese erotic massage technique requiring one or more Nuru masseuses to rub their body against the client's body when both parties are nude and covered with an odorless and colorless massage lotion. This pretty much means that if you would ever decide to present yourself with such a – without a doubt – pleasurable service, you would get a lot of physical contact with a tiny Japanese masseuse trying to relieve your stress and help you relax using her beautiful body and the body only!
Even though such a service could cost a little fortune in the real life and is somehow close to escorting services, thanks to VR Bangers, now you can participate in something equally pleasurable – and not with just one but two masseuses doing "their thing" right in front of your face in VRB's latest lesbian VR porn experience. In the Body To Body VR porn movie, Milana Ricci (previously known as Milana May) and Vina Sky will both do whatever it takes to grant you a desirable satisfaction, and they are super-eager to touch each other's bodies as much as possible right in the middle of the studio's lifelike virtual reality of 6K ultra high definition – the standard introduced by VR Bangers as the first in the biz.
"It feels like Milana and Vina were destined to work together," says Xander Jones, the Producer of Virtual Reality Bangers. "We do not produce too many lesbian VR porn movies, but after introducing this one and seeing the effect of the girls' work, I think that we might change our approach to that. The atmosphere of this VR porn movie's set was out-of-this-world and I am extremely happy with the outcome of this production – and I believe that our fans and members will too appreciate it while watching these two amazingly-hot young VR porn stars working with their bodies in front of our VR camera."
To watch both of these sexy girls on your very own and appreciate their company in the VR Bangers' immersive virtual reality, head straight to this latest VR porn scene and view it over here.
And if you are interested in other VR Bangers' VR porn movies, visit their main page over here.
Comments are closed.