Riley Reids "Fanatic Dreams" in VR Kick off Amazing Holiday Giveaway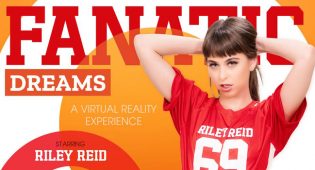 Believe it or not, but Riley Reid could actually be one of the most recognizable and known pornstars in the entire world. Her undeniable talents, charming looks, unbelievable skills and one-of-a-kind moaning capabilities have stolen the hearts of millions of horny men from all over the planet, building one of the biggest fan bases in the entire adult movies business – meaning both regular 2D porno and the innovative VR porn films, as well. After all, there are so many hard dicks that simply cannot wait for Riley's newest production, and making all these desiring folks happy is a very tough mission to do.
With such a huge amount of demanding followers, you have to come up with ever newer ideas to satisfy your community – and even though we live in 2018, the year of new technologies and solutions, this is actually harder than it might seem at first glance. That is exactly why Riley, our beautiful adult movies' vixen, has decided to ask Virtual Reality Bangers – one of the premium VR porn movies' makers – to help her with her latest project – bringing to live their entirely new solo VR porn scene in 6K ultra high definition called "The Fanatic Dreams".
With few hundreds of regular porn scenes and dozens of VR porn movies on her account, Riley had to come up with something fresh and interesting to successfully spice things up between her and her fans – and the immersive VR porn video in which she is playing with herself according to their will happened to be just a perfect solution. The young VR pornstar equipped herself with a whole lot of different sex toys and dildos, trying to not only satisfy herself but to also bring joy and sense of accomplishment to every single of her fans wearing a VR headset, looking directly into the virtual reality camera for all the time of playing with her juicy pussy and moaning out wild with an unstoppable pleasure.
"Riley Reid is the name that you simply have to know if you watch some porn or VR porn for a while – and that's for sure," explains Xander Jones, the producer of Virtual Reality Bangers. "She is beautiful and known all around the world for many, many things, so helping her with this latest project in form of a VR porn movie was a great pleasure. What is more, it was also a little anniversary of Riley's cooperation with VR Bangers, so all the more willingly we helped her with production of this immersive scene in 3D 180° of virtual reality."
If we have your attention and you would love to see how did Riley do in this latest project in virtual reality, you can watch it on the VR Bangers' website by going over here.
And if you are interested in other VRB's initiatives in both 4K UHD and 6K ultra high definition, make sure to visit their main page by going directly over here.
Comments are closed.