Romi Rain Inside of Virtual Reality!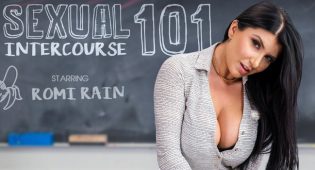 If you, by any chance, follow VR Bangers – one of the premium virtual reality porn movies' makers known for introducing the 6K ultra high definition standard to VR porn films – then you have probably heard about their latest VR porn fantasy with Reagan Foxx as a kinky math's teacher called Math Cums Easy. It turns out that this last adult movie in virtual reality was so successful that VR Bangers have decided to continue the school motive, but this time dealing with an even sexier theme – introducing the very first anatomy class inside of 6K virtual reality, the Sexual Intercourse 101!
Anyone interested in experiencing this new fantasy can enter themakers'website even today (the scene has been already released) to set up his VR goggles and "teleport" in a magical way to the VR Bangers class, where Romi Rain, an exceptionally beautiful VR pornstar full of undeniable assets, will be waiting for him. This brunette goddess may be your teacher for the needs of this VR adult movie, yet you should not forget about her professional skills even for a moment – the intimate atmosphere between you two and her clearly visible being horny will not let you do that even if you wanted!
"When we first made the Math Cums Easy VR porn video, we were not expecting it to be so successful, to be honest," says Alex Nash, the producer of VR Bangers. "It turns out that our viewers do like to keep coming back to their school years, and the teacher fantasies are now more popular than ever before. We had maths before and now we wanted to follow that scheme yet coming up with something entirely new – and what is hotter than an anatomy class with a tutor that you would love to bang?"
In the last VR porn fantasy you were the one being visited by your kinky tutor, yet this time it is getting even more classic – taking place in the school class like it was really happening in the real life. Since all new VR Bangers' VR porn videos are now being produced in 6K ultra high definition (so in stunning 6144×3160 resolution), this experience could be by far the most immersive school VR porn fantasy in the history of the industry.
"What is the best VR porn fantasy? The one that makes you feel like you have really been there, obviously," Nash continues. "We love our VR pornstars, and simply enjoy coming up with some new ideas with them – Romi was the one who proposed to become a teacher for the needs of this VR porn film, and we were more than happy to allow her to do that, thus making both her and our members satisfied!"
Comments are closed.