Become a Roommate of Kenzie Reeves and Milana May Thanks to VR Bangers!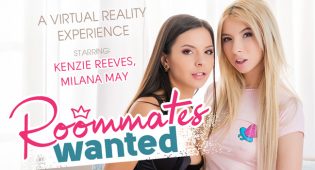 Have you ever had a roommate? Such a person can be both your worst nightmare and your best friend, so if you two get along with each other, such relation could be very fruitful and your roomie may as well one day become your very best friend. In the latest VR porn scene from Virtual Reality Bangers – one of the premium makers of VR porn movies in up to 6K ultra high definition – two world famous teenage VR pornstars, Kenzie Reeves and Milana May, are a perfect example of how close two roommates can get, helping each other's out even in the most dire situations.
Since VR Bangers are known in the virtual reality porn industry for coming up with rather unheard of ideas for their VR porn scenarios, this one will be no different, giving all their devoted fans a situation that is immersive and realistic, yet unlikely to happen in the real life environment. Aforementioned two beautiful girls will be so close to each other that there is literally nothing that one of them would not do for another one – members of the VRB's family wearing a pair of top-notch VR goggles are about to witness what does that mean in one of the most pleasant of all ways.
"To create a VR porn scenario that is both realistic and surprising at the same time is a rather difficult task," says Xander Jones, the Producer of Virtual Reality Bangers. "Today we invited two incredibly beautiful young girls, Kenzie and Milana, and asked them to imagine that they are two BFFs and had known themselves for ages now – and since one of them is in a desperate need of help, the other simply has to rise to the challenge and aid her friend as much as she can. Yet to find out what do I mean by that you will have to watch our newest VR porn movie called the Roommates Wanted."
Trying not to spoil the fun of watching this newest Virtual Reality Bangers' VR porn movie, we can only tease you a little bit with what you are about to see. First of all, this is a lesbian VR porn film and there will be no other guy around (at least not a real one), so the girls will be (mostly) playing with their own bodies and enjoying each other's company.
We can only tell you that it is never easy to transition from being lesbian to heterosexual, and no one, not even any of professional VR porn stars, has known how to skillfully play with a cock from the very beginning and with no professional experience – but with a trusted friend around, even such a presumably tough task can become as easy as falling off a log… right?
To precisely understand what both we and the Producer of VR Bangers meant by that, watch this latest VR porn scene over here, and if you are interested in other VR porn movies from this premium studio and to become their member, head straight to their main page, here.
Comments are closed.