Score a "Hole In One" in Virtual RealityWith Nia Nacci and VR Bangers!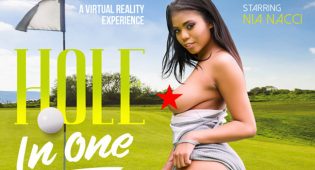 Do we have any golf players here? Yes? And have you guys ever played golf in virtual reality? According to VR Bangers – one of the premium VR porn movies' makers – it is actually quite lifelike and realistic, at the same time giving you a whole lot of new capabilities ensured by a risk-free and extremely immersive VR environment.For example: would you ever say that meeting a beautiful girl and fucking her on a golf course is even possible? Well, in the world of VR Bangers it certainly is!
The producers have just recently used the theme of this quite unpopular sport inside of their latest VR porn experience – once again creating a niche VR porn fantasy, coming up to the huge expectations of their community and creating something fresh and new for their loyal members. It is never easy to design an interesting sport-related VR porn scene, but VR Bangers have a whole lot of knowledge in that matter and they are well experienced when it comes to turning just anything into a sexy and kinky date with one of their super-hot VR porn actresses.
In the Hole In One VR porn video, "swinging your club" expression takes on a whole new meaning. With a beautiful professional VR porn star, Nia Nacci, by your side, it is no wonder that it might get quite inconvenient to focus on this requiring-concentration discipline – especially that this wonderful ebony chick will be interested in something quite different from finishing the match. Her intentions do have something to do with a hole, though…
"Nia Nacci may not be a professional golf player, but she did just great in this latest VR porn scene and we are sure that our fans will appreciate her," admits Xander Jones, the Producer of Virtual Reality Bangers. "In the Hole in One VR porn movie, it will be all about 'playing with your club', and 'scoring the final hole' – yet all of that in a meaning quite different from a regular golfers' slang. After all, we are not a premium club for rich guys willing to play golf, but exclusive VR porn movies' makers, right?"
This VR porn experience will start out slow with a round of playing golf (for real!), but will in no time turn into a regular virtual reality porn experience – one of those adult movies in VR inside of which you can observe an amazing girl riding on your cock from your POV (point of view) perspective and in 6K ultra high definition. VR Bangers were the first to introduce the 6K standard to their VR porn films, and they keep on using it in their ever-new VR porn films henceforth.
To watch this latest VR porn video, make sure to follow to this link – and do not forget to visit the main page of VR Bangersto watch other VR porn scenes that these premium makers have in their huge library of 200+ virtual reality porn experiences!
Comments are closed.