Sera Ryder Became a D*ckBoxer in 8K UHD VR – Don't Worry, Though, She Still Prefers Sucking Over Punching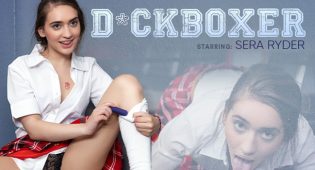 It has been a while since VR Bangers have released such a crazy VR porn scene but… the makers are known for silly ideas, and it is not the first time when they are shocking the members of their community withsomething – and, even by judging by the name of their latest release, we knew that something will be going on. D*ckBoxer is VRB's brand-new VR porn experience inside of which Sera Ryder will be told by her mistress to find someone to fuck…and she will do that in a really, really "unconventional" way. Oh, and do not worry, producers promise that your dick will not get punched in the process, haha!
At the beginning of this solo masturbation VR porn video, it will be just you hanging along in your boxing club, when out of nowhere you will notice that something weird is going out there. It will be Sera sitting on the ring and playing with her tight little pussy – and even though you will get to watch her a little bit, soon enough she will realize that you were spying on her, and here will the true story really begin. The thing is that Sera is submissive and that she has been told by her dominatrix to lure one of the guys from the gym (just like you) to fuck her – and now when she found you, she can finally succeed with her mission.
It will be all due to you to fuck her hard enough and make sure that the urges of this tattooed VR porn slut will be met – and even though Sera is a hardcore chick, and she cannot be satisfied easily, we are more than sure that you will be just fine with her tight little pussy and that you will end up getting her a whole lot of wet orgasms! Do we have your attention? Or maybe even curiosity? Great. Then wear your VR goggles and watch the D*ckBoxer virtual reality xxx movie in up to 8K ultra-high definition here and now at VR Bangers' website!
"First of all, I would like to clarify: No, your dick is not going to get punched, guys!" explains Ivan Harbakon, the Producer of Virtual Reality Bangers. "This is just a little word game that we had with this latest release (word 'kickboxer' with a twist) – the one inside of which our fans and members are going to stand in a 1-on-1 fight with hot Sera Ryder. The girl is young and seems to be innocent but be careful – you will be shocked by her methods, so do not lose your caution, boys!"
If you cannot wait to visit VR Bangers' "fight club" already, make sure to do that after goingto this link.
And remember that you can always visit VR Bangers for even more top-quality VR porn content as the producers update their website with fresh virtual reality porn scenes at least a few times a week (here).
Comments are closed.