Sorority Hookup is Back with Part 5 and Four New Sexy Girls!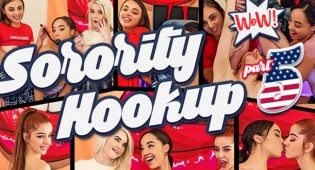 There must be something truly unique in teenage porn that most of the guys will always choose this category over adult videos with older babes and even more experienced MILF porn actresses. Thanks to that little excitement caused by the fact that the girl kneeling in front of you is barely 18 and her juicy pussy is still fresh – and you could be one of the first cocks inside of it – porn with college and school girls is super-popular and most of the sexually active males will always reach for it as a priority. One of the premium VR porn movies' brands, VR Bangers, is well-aware of this statistics and is regularly taking advantage of that – and today they are about to do that yet again.
Even though teen VR porn is truly mesmerizing on its own – as it feels great to feel like being in the same room with a teenage girl of your dreams while wearing a VR headset – VR Bangers produce so many different VR porn videos that we would not even mention a yet another, regular school-girl VR porn scene – today, we are talking about something way more interesting.
If you have (or have had) the active membership on VRBangers.com, then you must have heard about the series of the makers called The Sorority Hookup. This epic group-fucking saga of teenage VR porn has been released in four different episodes so far – and every single one of them was bringing new girls and new experiences for the VRB's fans to enjoy. Today is the day when the producers have announced a yet another part of this epic, super-sexy series: The Sorority Hookup Part 5 has just been released, and – as expected – is adding 4 new girls to the VR Bangers' sorority!
This time it will be Gia Derza, Alexis Tae, Vanna Bardot and Chloe Foster to join the club – and since all these four girls are extremely charming, beautiful and have perfect feminine, young bodies, they all meet the requirement built over the years of releases of the Sorority Hookup saga – and can proudly extend the story of this multipart VR porn experience and bring something new and fresh to the series that members of VR Bangers' seem to simply adore.
"Gia Derza, Alexis Tae, Vanna Bardot and Chloe Foster are new stars of the VR Bangers' sorority and they were chosen not without a reason," says Xander Jones, the Producer of Virtual Reality Bangers. "With so much going on in the Sorority Hookup saga, we had to choose the girls that will worthily represent the expansion of our ever-growing family of performers – and we believe that all of these hot teenage VR porn stars will do that perfectly!"
If you want to see the girls in action, make sure to watch the VR porn video in 6K ultra high definition after going directly to this link – and do not forget to visit VRBangers.com on its own to browse through other virtual reality porn experiences that the makers can boast of.
Comments are closed.