Survey: Top 10 Reasons Men Want to Own a Sex Robot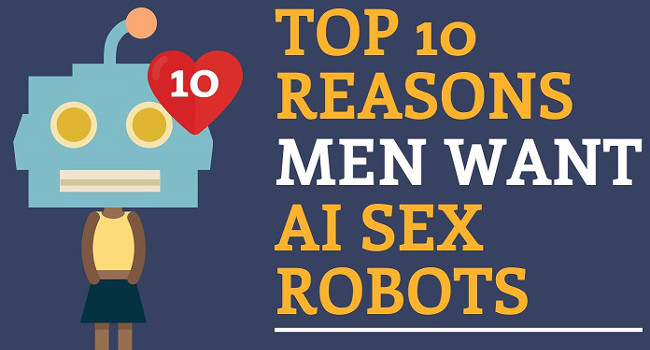 LONDON – "Why would you want [to own] a sex robot?" That's the question British adult starlet, lifestyle blogger and self-professed geek Harriet Sugarcookie asked fans in a recent survey. While not altogether surprising, the results mirrored a growing concern among sociologists: in a high-tech world, adults often feel disconnected from other "real people."
Sugarcookie polled more than 500 men. Respondents could choose more than one option, which ranged from basic (shy with women or lonely) to peculiar (many wanted a partner that "shared the same interests" or they wanted to "show off their super-hot trophy girlfriend").
Sixty-seven percent of men polled said they simply wanted to have regular sex. Thirty-eight percent said they'd like to live out fantasies they can't engage in real life. Thirty-five percent indicated they want a partner with "amazing sexual skills" to indulge in "the ultimate sexual luxury… instant gratification."
Other responses seemed to reflect dissatisfaction with single women. Thirty-one percent said they want a partner who "won't let them down,' 21 percent admitted yearning for someone who'll always listen to them, nearly 15 percent said they seek a woman who "is never sad or upset" and 6 percent said they desire "an old-fashioned girl that doesn't exist anymore."
Sugarcookie said the results indicate men mostly want to connect — and sex robots can be designed and programmed to look and act like almost any man's ideal partner.
"Men tend to be very specific about what they are looking for but, at the same time, they just want to be comfortable around someone else, be themselves, do what interests them — but maybe they can't or would rather not make the effort," she said. "For those people, a robotic love doll can essentially replace the human touch and provide a comforting sense of companionship."
More about the survey and its results is here (SFW).
Visit Sugarcookie on Facebook, Twitter and Instagram.

About the Author

Marty O'Brien
Raised in the Appalachian Mountains of Kentucky, Marty O'Brien was the first of the O'Brien clan to obtain a college degree. A former sports journalist, O'Brien got a peek at the inner workings of the adult entertainment industry while on an assignment to cover the Los Angeles Lakers. He joined the YNOT editorial team in late 2010 and now specializes in technology , business news and ogling starlets.
Related Posts
United Kingdom – Sex-positive men's lifestyle brand Sugarcookie.com, polled its readers and found 1 in 3 people have been catfished and a huge number of […]

London, UK –  Sugarcookie.com, the award-winning lifestyle site for men, has just released a collection of advice articles that focus on personal growth and self-improvement, particularly […]

London, UK –  Harriet Sugarcookie announces the selection of Russian adult performer Lilu Moon as Sugarcookie.com's Miss Sugarcookie for March 2018. According to Sugarcookie, who chats […]

February 19, 2018

by

admin

London, UK –  Sugarcookie.com's Harriet Sugarcookie recently polled 2000 men and women to find out their private lurking habits on social media, with surprising – and not […]
Comments are closed.