Swiss Parliamentarian's Wife Bares All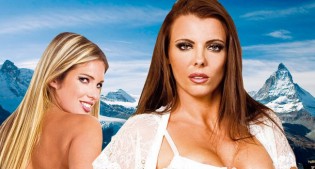 BARCELONA – Caroline Tosca, spouse of a controversial Swiss politician, does more than stir up controversy in the latest release from Private Media. With a big budget, French director Anissa Kate, an international cast and gorgeous Alpine backdrops, Ass, Cash and Politics gives new meaning to the term "politics of inclusion."
The film is Tosca's first — and perhaps her last — adult movie. She plays the cameo role of a famous politician's wife, natch. While her fictional on-screen husband Theodore Tosca has a hidden hunger for power and wealth, Caroline Tosca's secret appetite is fed by a trio of able young men.
"It was an amazing experience and a scene I expect my [real-life] husband will not soon forget," Tosca said. "The only studio I trusted with this was Private."
Xavi Roka, Private's head of production, was impressed with Tosca, as well.
"Even for Private, where we are used to getting the best and the newest stars by nature of our brand, this was a once-in-a-decade opportunity," Roka said. "I mean, how often does the beautiful, wealthy wife of a well-known politician sign up for a cameo role in an adult movie?"
Ass, Cash and Politics takes viewers on a star-studded journey through the underbelly of politics. French beauties Anissa Kate and Eva Parcker are joined by UK star Jasmine Jae and yet another first timer, Angelique Duval, whose portrayal of a naughty secretary leaves no doubt about who is the boss.
Founded in 1965, Private has produced thousands of movies, many of them award-winners. Over the past 12 months alone, the studio has released 66 new titles; the company plans to release more than six titles monthly for the remainder of 2013. For more information, visit Private.com.
Comments are closed.