Istripper is delighted to name Anissa Kate iStripper Talent of the Month for March 2019!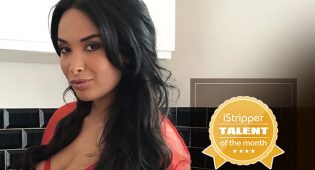 Anissa Kate is now a legend in the adult universe, after several years of career, Anissa continues to stir us up ! She has worked with iStripper three times already, and her latest shooting in 2019 is all about sublime, especially her duo with Ginebra Bellucci (iStripper Talent – Nov. 2018) (visible here : https://www.istripper.com/model/show/f0437).
« Not only Anissa is a goddess in front of the camera, but she's also a treat to work with. She's smart, sparkling, patient & smilly, she quickly fit to any request and has a great humor. An unforgettable memory ! – said Ethan Angus, photographer for iStripper.
Istripper's members have reserved the same warm welcome to her new shows and her sales immediately went to the roof !
*****5.00
OMG how can one girl be so Beautiful !
Rick**
*****5.00
Magnificent 
Fal*********
*****5.00
Pretty sure if you have a picture dictionary, look up Perfection – Anissa will be there.
Cy*******
You can check her performances here : https://istripper.com/model/anissa-kate
Each month, iStripper selects their Talent of the Month based on her beauty of course, the quality of her performance as a stripper, our member's rating, the number of times she's been purchased, how long she stays in our top 20, etc.
In the case of a tie break, we ask the film crew to choose the girl who has left them with the most unforgettable memories!
iStripper is the only desktop application able to display real stripteases directly onto the computer taskbar, without background. The concept has existed for 20 years and is supported by thousands of affiliates who monetize their desktop trafic with innovative tools such as the pop-up models.
more info on affiliates.istripper.com
Comments are closed.