Synergy & Science: Penthouse Reacquires OMNI Magazine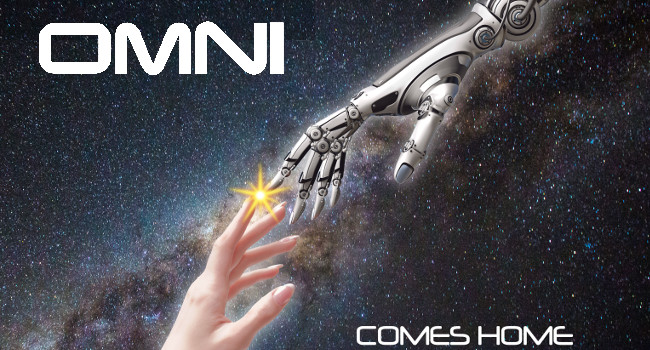 LOS ANGELES – Penthouse Global Media has reacquired the science and science-fiction magazine OMNI. The first issue of the revived publication is expected to drop in late October.
In essence, the deal represents a homecoming for the pioneering magazine: Bob Guccione and his business partner and third wife, Kathy Keeton, founded OMNI in 1978. The magazine was best known for its Q&As with thought leaders including Richard Feynman, Candace Pert and Freeman Dyson; its gonzo-style journalism; literary long-form writing about the sciences; award-winning fiction, and stunning, futuristic art. OMNI published work by George R.R. Martin, Stephen King, William Gibson, Octavia E. Butler, Ursula K. Le Guin and renowned artist H.R. Giger.
The magazine halted publication after Keeton's death in 1997, but returned with two print issues in 2016.
"As Penthouse Global Media enters its second year under new ownership, our driving principle is to put all of the pieces of the brand back together again," said Penthouse Chief Executive Officer Kelly Holland. "As a result of decades of neglect, much of this company's brilliant legacy was lost … until now.
"I am proud to announce that one of those casualties, OMNI — the magazine of science and science fiction, heralded as one of Guccione's most iconic brands — is once again a part of the Penthouse family where it belongs. Thanks in large part to Pamela Weintraub, one of OMNI's original editors, who had the foresight to bring the brand back to life by re-registering the trademarks and launching a digital site, she, along with many of the original OMNI staff, will deliver the award-winning magazine to newsstands once again."
Weintraub, who will continue as editor, said she sees the magazine as perfectly positioned to address "the cultural yearning for science and innovation during a time of political uncertainty."
"The acquisition of OMNI by Penthouse represents a powerful synergy overall," she said. "Both Penthouse and OMNI were created by Bob Guccione and Kathy Keeton as part of their cultural vision for the late 20th Century… The two major brands of Guccione's media empire, Penthouse and OMNI cast an edgy, iconoclastic gaze on the world, and the open, creative, energetic environment of Penthouse remains the perfect media lab for reinvigorating and reinventing a 21st Century version of OMNI for the zeitgeist of today."
The original OMNI's content and irreverent tone were informed by Keeton's sense of adventure. Born in South Africa, Keeton took up dancing to strengthen a leg weakened by polio. Although she trained at Sadler's Wells Ballet in London, at the age of 24 the Associated Press dubbed her "one of the highest-paid strippers in Europe." She appeared as a stripper or exotic dancer in four movies, including The Spy Who Came in from the Cold (1965).
Holland said OMNI's reanimation "marks a return to its hallmark vision and standards of excellence, including an authentically radical voice reimagined for a new generation of science-minded dreamers.
"As a magazine publisher, I understand the value in acquiring OMNI and believe the timing is perfect to go back into print," she said. "In the 1980s, OMNI captured the spirit of a culture enthralled with science and its possibilities — one that explored and obsessed over the magic put forth in reality-bending films like Alien and Terminator and Blade Runner, and the technological boon that brought us the space shuttle, flip phones, and flourishing test tube babies.
"Here we stand in that moment again — in an era of 'alternative facts' and climate-change deniers, evolution skeptics and flat earthers, where the science of wonder is more relevant and urgent than ever," Holland continued. "Today, scientists and geeks are the rock stars of popular culture. Science fiction continues to be our collective obsession and, given Moore's Law, the intersection of fantasy and science is closer than ever."
Comments are closed.