Let Texas Patti Prove You That VR Bangers' VR Porn Ist Fantastisch!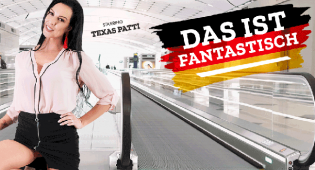 Not too long ago, VR Bangers struck us with their latest Italian VR porn movie, and yet today they are on the wave again – this time with some German related stories. What are we talking about? Das Ist Fantastisch VR porn video from Virtual Reality Bangers is the producers' attempt on shooting a virtual reality porn fantasy about phone sex – such an affair could have happened to pretty much every one of you in the real life, but definitely not in the style of these premium makers.
Texas Patti, sexy adult movies' performer straight from Germany, will take the lead of this newest production, guiding every member of the VR Bangers' family through this virtual reality experience – both her voice and her moves should grant a whole lot of immersive sensations to every horny male wearing a VR headset, especially that it is a 6K ultra high definition VR porn movie that the producers have been recently so famous of – and not without a reason!
"Most of us had an occasion to have a phone sex scenario at least once in their lives, but that is not the point here," explains Alex Nash, the producer of VR Bangers. "The point is to take something that could really happen to you and turn it into an immersive fantasy within the virtual reality – here, every situation could be a whole lot sexier than in the real life, as not everyone is (or was) dating a professional pornstar, right? Yeah, that is exactly what we thought."
Since Texas is a rather… persuasive person, Das Ist Fantastisch VR porn movie is about giving her a full control over the situation – she will become the boss inside of this virtual reality porn fantasy, and her dominance will be well visible to every fan of such scenarios. As Mrs. Patti is one of the most experienced pornstars originating from Europe, every craving for MILF pussy male attempting to watch this film will get to experience the full package of sensations – after all, VR porn videos packed up with binaural sound and 3D image are known for their complexity and plenitude.
"Texas Patti is a really experienced pornstar and she kind of… took over the set of this VR porn movie by a storm," Nash adds. "Don't get me wrong, I am not saying that she has ruined anything – quite the opposite, actually. Until the very last moment we did not have the full idea for this scene, but moments after Texas entered the movie set – bang, boom, everything is settled. Done. I am professionally working with hundreds of performers every year, but still I was rather impressed – I really gotta admit."
Comments are closed.