Triplet Beads Allow 'New Possibilities in the Bedroom'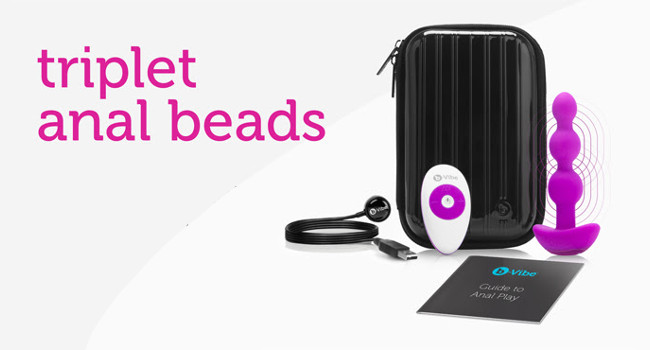 Flexible, tapered and vibrating, b-Vibe's new Triplet Anal Beads are designed to help users at all levels of experience explore new experiences and expand their horizons.
"b-Vibe strives to cater to the needs of all users, regardless of gender or experience level," Managing Director Alicia Sinclair said. "While there is no competition or end goal to anal [play], our lineup of small, medium and large plugs allow customers to work toward a larger product or play within their limits. And now with the debut of the Triplet, customers can transition through the graduated-sized beads and/or explore new possibilities in the bedroom."
Made of sleek, body-safe silicone, Triplet Anal Beads feature three flexible beads, an easy-grip handle and two motors that provide six vibration levels and 15 patterns. They include a rechargeable battery and a remote control.
Triplet Anal Beads allow beginners to start slow, with just the smallest bead, and then gradually work towards the medium and larger beads. More experienced users can enjoy the feeling of fullness from inserting all three beads. The vibration from two motors enhances the experience, Sinclair said, adding that the product may be worn during sex for additional stimulation of the G-spot or P-spot.
As with all other b-Vibe products, Triplet Anal Beads come with a travel-friendly case for easy and discreet storage, as well as the b-Vibe Guide to Anal Play, which is packed with expert information to guide users and empower them to have a truly pleasurable experience.
b-Vibe also offers comprehensive, sex-positive tips and information regarding all things anal in the Expert Advice section of bvibe.com. The information-packed section aims to decrease negative stigma surrounding anal play with advice, product knowledge and support for retailers.
For more information, visit bvibe.com or email sales@bvibe.com.
Comments are closed.