Tube Site's Data for 2016 Shows 'Fap-tastic Year'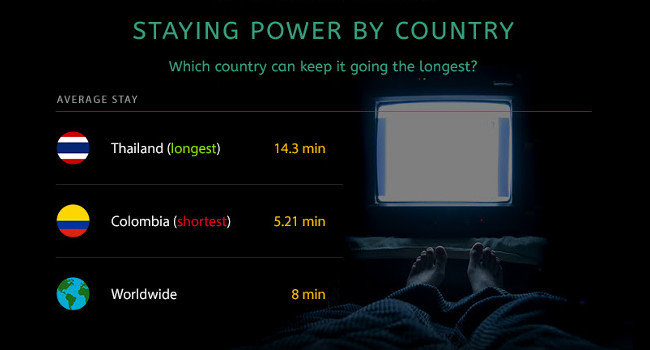 CYPRUS – Mature women, Mia Khalifa and Melania captured the market in 2016, according to year-end stats from tube site xHamster.
"Thanks to politically charged sex tapes, a nude FLOTUS-to-be and threatened porn bans in the U.S., U.K., Israel and Russia, interest in adult content soared in 2016," said spokesman Alex Hawk. "This looks like it might be the most fap-tastic year yet."
The company's first survey of worldwide porn viewership, compiled from anonymous server data about more than 2 billion visits, revealed top search terms, most-requested performers and countries with the highest percentage of female site visitors, among other tasty tidbits.
Viewers watched more than 1.8 billion hours — equivalent to 205,479 years — of video on xHamster this year, according to the company's data, which spokesman Alex Hawkins called "illuminating."
"Forget MILF," Hawkins said. "The most-visited for category in 2016 was 'Matures' — women in their 40s and 50s."
User searches for specific porn stars support Hawk's revelation: Ageless porn icon Nina Hartley came in a close second to 23-year-old Mia Khalifa as the year's most-searched-for performer.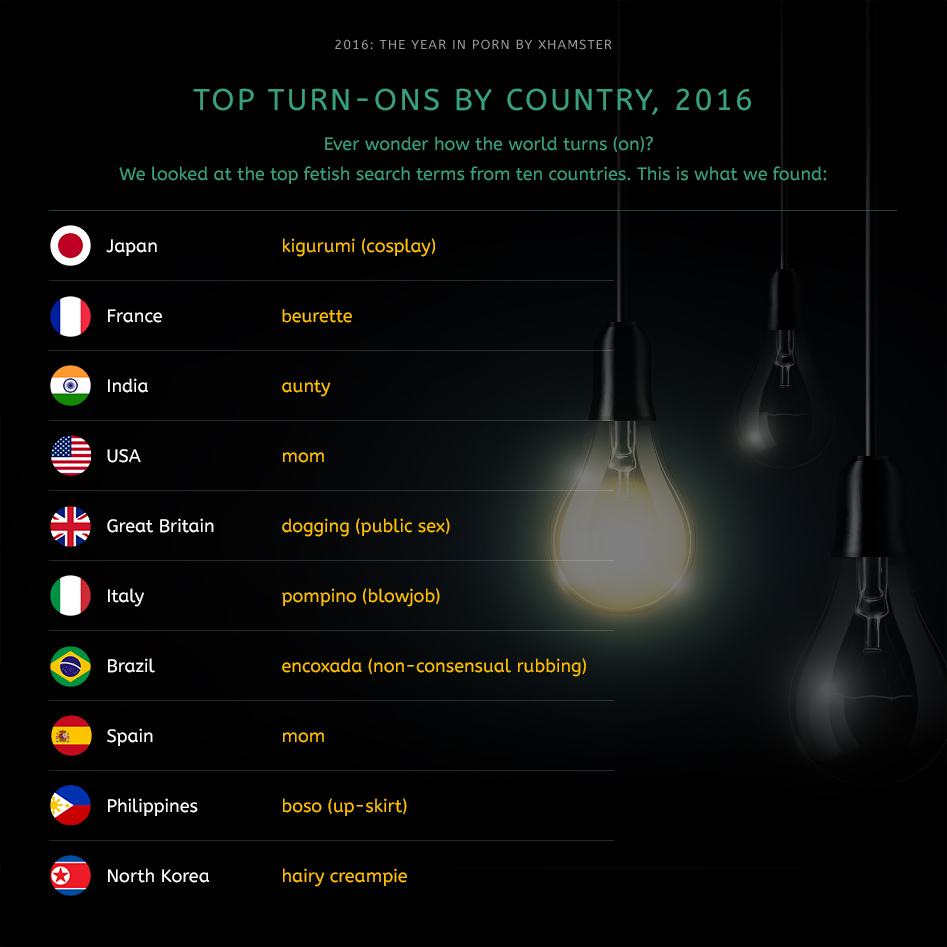 Searches for "Hillary Clinton" (83,800) were nearly double those for "Donald Trump" (39,200) — but adult performer Melania beat them both. That's not too surprising, given Trump's wife Melania received significant salacious coverage in the tabloids after nude photos surfaced in both the British edition of GQ and the New York Post. Mrs. Trump is pursuing a $150-million libel suit against Britain's The Daily Mail tabloid and a 70-year-old American blogger after the two published allegations the 46-year-old first-lady-to-be worked as a high-dollar escort during the 1990s.
Viewers in Thailand displayed the greatest "staying power" on the website, consuming more videos per visit than viewers from any other country. Columbians were in and out more quickly than any other group. (Must be that legendarily hot Latin blood.)
According to xHamster, Italians prefer blowjobs, Filipinos want up-skirt videos and the British love to watch public sex. If one believes the server stats, Americans are subject to Oedipal complexes: Their favorite search term was "mom."
Surprisingly, most female site visitors (34.5 percent) came from China, which severely censors internet content. French women, at mid-list, composed 26.9 percent of the site's female visitors, followed closely by Germany with 23.5 percent. The U.K. and the U.S. — way at the bottom of the chart — sent 18.2 percent and 17.8 percent, respectively.
The most beloved food in a sexual role during 2016? Cucumbers.
More statistics from deep in the bowels of xHamster's servers may be found here.
Comments are closed.