Valentina Nappi lets you experience Italy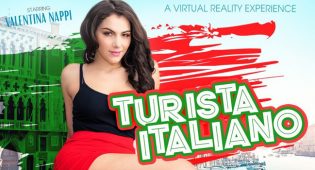 A trip to Europe – and especially a sexual vacation of some sort – has always been something most of us could only dream about, because visiting the "Old Continent" is indeed really pricey, and requires a whole lot of planning. After all, in a foreign country with such a diverse culture and a different currency, it may be hard to even adapt to new situations, and not to mention picking up a sexy girl in a local bar or club…Since European babes are known for being incredibly kinky and sexually active – like some world-famous Czech VR pornstars, for example – banging one of them have always been a fantasy for many of us, and unfortunately, most of the time an unfulfilled one.
VR Bangers, one of the premium virtual reality adult movies' makers are here to help with yet another of men's sexual desires, introducing their entirely new 6K UHD VR porn video straight from hot Italia – the TuristaItaliano. Thanks to one of the hottest Italian VR porn movies' performers, Valentina Nappi, this fresh euro VR porn film will make you appreciate the Italian culture not only for their delicious pizza and pasta– wear your VR headset and let your very own sexual Eurotrip begin!
"When we signed a contract with beautiful Valentina, this VR porn film has pretty much recorded itself," says Alex Nash, the producer of VR Bangers. "Alluring European hot-blooded babe with a lot of undeniable charm and godlike sexual skills, set of sophisticated virtual reality cameras needed to record in 6K ultra high definition and a straightforward scenario that should let every of our fans focus on the girl's 'gifts' with all his senses – what more could you possibly want of a VR porn fantasy?"
In the newest VR Bangers' VR porn film, every member of the VRB's network will get to become the owner of a little souvenir shop, to which a slightly freaky, yet incredibly charming European babe will come looking for some mementos of her trip to USA. Although, in the matter of minutes inside of this VR porn fantasy, it will be clear that she is not looking for some beach glass or postcards from LA – she has never been with an American guy and she wants to change it today by all means necessary!
"Valentina had a lot of cool ideas and it was a pleasure to work with her," Nash adds. "After spending an entire day on our movie set, now I understand where the rumors about European girls come from and I am more than sure that our fans will be super happy with this Italian VR porn fantasy. What country VR Bangers plan to visit next? Well, we will see about that. It always all depends on our fans…"
Would you like to watch this 6K VR porn fantasy? Go over here to find it in 3D 180° or go straight here to visit VR Bangers' main page to browse for some other VR porn fantasies – now in both 4K and 6K UHD and in full 360 degrees as well!
Comments are closed.