Veronica Rodriguez is fan-effing-tastic – in VRB's latest scene release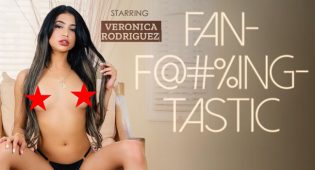 Europe – If you've ever watched a solo masturbation scene, you know exactly how sensual these can get. It is a widely acknowledged fact that such adult movies allow the fans to achieve an incomparably higher level of immersion than the regular ones – and this is only getting even more lifelike when recorded in 3D 360° virtual reality. VR Bangers, one of the premium VR porn videos' makers, know exactly how it works,once again using this theoretical knowledge in practice – yet this time in an even more realistic way.
Since VR Bangers have just recently started shooting their VR porn films in 6K ultra high definition resolution, they keep on looking for more ideas for their scenes that could emphasize their realism even greater. And that is exactly how the Fan-F@#%ing-Tastic VR porn video idea was born. This brand new 6K virtual reality porn movie with incredibly hot Latina Veronica Rodriguez is all about giving the VRB's fans a unique taste of immersing with this beautiful pornstar – just like they have been there with her for real.
"Since we shoot our VR porn films in 6K ultra high definition for a while now, we keep on looking for new ideas and scenarios that could let this incredibly high resolution shine," Alex Nash, the producer of VR Bangers explains. "Considering that solo masturbation scenes are known for their high immersion, and we could only increase this effect with our top-notch virtual reality standards, we came up with this new idea and we are really happy with the effects. The only problem was to find the appropriate girl, but since we have worked with Veronica in the past, we knew what we can expect of her and it all turned out just great."
Even though most of the solo masturbation scenes are quite straightforward when it comes to their story, this one brings a somewhat unexpected twist. In this VR porn fantasy, Veronica will be playing with her pussy, using her fingers and many toys, guided by not their very own ideas, but… fans asking her to do more and more kinky stuff through her social media channels.
"The whole idea of creating this story was to allow our fans to feel that they are there with Veronica – just like she was really spreading her legs in front of them," Nash adds. "The girl will be playing with plentiful of toys to cum in front of our virtual reality camera multiple times, fulfilling the requests that her fans are sending to her through her social media profiles – and that's what it's all about. While watching this VR porn film, every VR Bangers' fan shall feel like he is the one giving orders to her, while at the same time experiencing her following them with both eyes and ears."
Feel like checking Veronica's solo performance on your own? Watch this VR porn movie on the producers' website over hereand see for yourself if it is really as immersive and realistic as announced.
For more VR porn videos from VR Bangers visit their official website over here.
Comments are closed.