VR Bangers' Campaign for US Soldiers Just Got Boosted!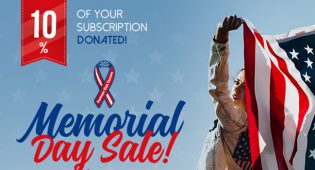 If you visit our blog regularly, then you have most likely read about the latest socially responsible campaign ongoing currently on all three websites owned by VR Bangers – premium virtual reality porn movies' makers known for introducing 6K ultra high definition resolution to their VR porn experiences as the very first in the entire adult industry.
For the period of May 17th to May 27th – so starting one day before the Armed Forces Day and finishing on the Memorial Day itself – the company decided to support the American armed forces' members worldwide and, after the campaign is over, make a sizeable charitable donation with funds gathered from their VR porn scenes.
Apart from a reduced price on all the virtual reality porn services owned by the studio and 10% of everything that they will collect during the campaign donated directly to the charity supporting the American veterans, the makers have just recently announced that they are boosting the promotion on their websites, encouraging their new and current members to participate in their initiative with the use of 7-days long fire sale on all their VR porn content.
"We are super happy that so many people decided to take a part in our little initiative," claims Igor Zhivago, the Marketing Director of Virtual Reality Bangers. "Pornstars working with us daily joined our cause and started spreading the word with use of their social media channels, multiple veterans reached out to us to thank us for our initiative, and we are incredibly happy that so many people decided to take a part in this entire campaign – both directly, on their own, or indirectly, when buying our membership – donating some of their funds to the American veterans. To encourage even more people to join this whole hype train of doing good, we have decided to increase the promotion on our VR porn for the last 7 days of the campaign – this lucky period of time will allow you to become our member for $7.77/month only!"
Apart from all of that, the company announced that by the end of this week, there will be a very special VR porn scene released for the needs of this army-related campaign, supposedly honoring the American soldiers and giving the incoming members a yet another reason to subscribe to VRBangers.com and support the troops. If you do not want to miss this latest patriotic VR porn scene, make sure to check the studio's main page over here regularly.
And if you are an active (or veteran) member of the army and you are interested in getting 2 months of subscription on VRBangers.com for free, make sure to contact the company over here. You can also send them an email to donate@vrbangers.com if you have any questions about the campaign and/or would like to donate some funds directly without using the website.
To review the entire initiative and read more about the VR Bangers' doings, make sure to join the special subpage of their promotion here.
Comments are closed.