The Wettest of Scenes in the History of Virtual Reality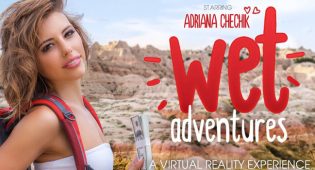 Squirt is a mysterious phenomenon that not every man can experience during his life – as, unfortunately, not every woman is capable of performing it. Apparently it is possible to develop a squirting technique with sufficiently long-term learning and attempts to control the Kegel muscles, but still a large proportion of women will never be able to throw away this sexy stream of fluids, which is a cause for sadness for many unfulfilled men – but today it can change once and for all!
Having in mind the "squirting problem", one of the premium VR porn videos' makers – VR Bangers –have decided to create their latest VR fantasy pornin this theme, which is fully inspired by all those who have never experienced this hot and wet female ejaculation, probably being the wettest of all adult movies in virtual reality ever made. Wet Adventures VR porn movie with a true queen of squirting –Adriana Chechik – is a huge bow to the VR porn films' fans looking for some realistic moist experiences, the more so because it was created in 6K ultra high definition – an innovative standard recently introduced by these producers as the very first ones in the industry.
"While getting in touch with Adriana Chechik for the very first time, we pretty much already knew that the scene that we were going to shoot with her had to be oriented around the squirting theme," says Alex Nash, the producer of VR Bangers. "After all, she is often called a 'queen of squirt', so when she heard the name of a VR porn fantasy that we wanted to create together with her – which is the Wet Adventures – she laughed and just asked us when the shooting begins."
Wet Adventures is filled to the brim with Adriana's juicy pussy and her wild moaning and groaning – thanks to VR Bangers' binaural sound technology it can be fully heard by all the website's members crystal clear – and even though just watching it through a VR visor will not get you wet, it is as realistic and lifelike as it can only get these days. After all, 6K UHD stands for the stunning amount of 6144×3160 pixels, so maybe you will not feel the girl's "juices" on your face, but all the other experiences are yours to have.
"To be honest, during the shooting of this VR porn fantasy, we actually had some casualties… in our equipment," Nash adds. "Adriana's squirt is so intense and high pressure that when she climaxed in front of our virtual reality camera, she actually destroyed it and we had to use some backup hardware. Fortunately, the camera survived after some maintenance works and we can keep on using it. By the way, according to Adriana it happens all the time – the whole incident did not surprise her a bit!"
Wet Adventures VRporn movie is in 3D 180°. Feel free to visit VR Bangers' main page where you can find a lot of different VR porn fantasies – now in both 4K and 6K ultra high definition!
Comments are closed.