'What I Learned from Performing in Porn'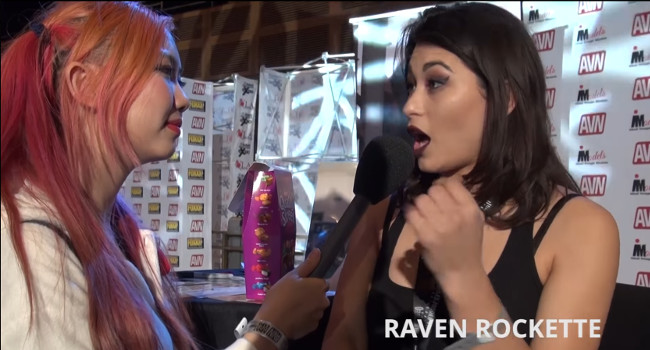 LONDON – Harriet Sugarcookie — the darling of geek porn — got to the bottom of adult performers' real lives when she quizzed them about sex secrets. She cataloged the adventure in the video "Porn Stars Share Their Porn Misconceptions and Sex Tips They Learned on the Job." (Click here to watch a SFW version on YouTube.)
"Everyone has their view on the porn business," said Sugarcookie, "and so many of them are totally wrong."
Performer Christie Stevens made that point early on. "It's a lot more professional than I thought it would be," she said. "I thought it would be like a lot more partying and craziness."
Harley Jade echoed that observation: "People are very professional and they're very serious about their jobs and I really appreciate that. I didn't expect that coming into it."
Jenna Ross said preconceived notions about porn generally are way off the mark: "There was a preconceived notion that everyone wants to rape and abuse you, and that's not true. Most of us … quite enjoy and love what we do … and we do it willingly."
Janice Griffith said porn gave her perspective. "I love my body so much more now. I've never felt more comfortable and in touch with it until after making porn."
As for porn star sex tips, Ron Jeremy advised, "Guys, lick the alphabet.'"
Jasmine Jae added advice for women: "Blow jobs should always be wet and sloppy … and never, never neglect the balls, ladies."
Since its 2015 launch, HarrietSugarcookie.com, "Porn for Geeks," has become one of the U.K.'s most trafficked websites, regularly topping 300,000 monthly visitors, she said. The ezine mixes articles about pop culture, sex, sci-fi/fantasy films, fashion, advice, food and sports alongside amateur XXX video clips and free live cam shows.
Sue Denim
editor in chief, YNOT Group LLC
Related Posts
United Kingdom – Sex-positive men's lifestyle brand Sugarcookie.com, polled its readers and found 1 in 3 people have been catfished and a huge number of […]

London, UK –  Sugarcookie.com, the award-winning lifestyle site for men, has just released a collection of advice articles that focus on personal growth and self-improvement, particularly […]

London, UK –  Harriet Sugarcookie announces the selection of Russian adult performer Lilu Moon as Sugarcookie.com's Miss Sugarcookie for March 2018. According to Sugarcookie, who chats […]

February 19, 2018

by

admin

London, UK –  Sugarcookie.com's Harriet Sugarcookie recently polled 2000 men and women to find out their private lurking habits on social media, with surprising – and not […]
Comments are closed.