World Cup vs. Porn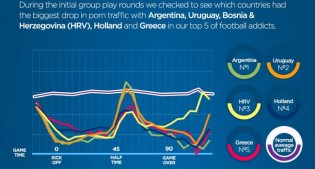 BARCELONA, Spain – Per capita, the Swiss are the world's biggest consumers of porn, Argentinians would rather watch football than porn, U.S. viewers prefer porn to football, and everyone appears to need a porn fix after a World Cup loss. Those are some of the conclusions advertising network ExoClick reached based on analyses of traffic passing through its servers during football's worldwide championship playoffs.
An infographic presents all of the conclusions, but among the most notable are:
Per capita consumption comparison: Two months prior to the World Cup quarterfinals, Switzerland led the world with the highest percentage of porn consumption per capita. Nigeria brought up the rear with the least porn consumed per person. During the playoffs, Switzerland maintained its position, but — in order of magnitude — traffic in Argentina, Uruguay, Bosnia-Herzegovina, Holland and Greece showed Sharp dropoffs.
Most popular sites for quick peeks: When they could tear themselves away from the matches for a few minutes, football fans across the world preferred to visit tube site XHamster. Argentinians most often visited A Shemale Tube, and Columbians headed to Black Pussy Tube.
Winners vs. Losers: In the U.S., folks became more interested in soccer and less interested in porn the further their national team advanced in the playoffs. As for Spain and Holland, which met in the finals last year: Spanish porn viewing dropped very little during the 2014 rematch, possibly because Spain felt confident of another win. The Dutch, however, all but abandoned porn in favor of televised football. Holland's porn traffic dropped even more after the game as the Dutch celebrated their win.