Adult Performers On Call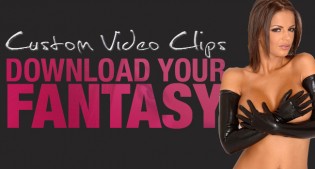 LONDON – Adult performers who offer customized video clips using a London-based e-commerce platform now can offer fans an extra service: one-on-one live audio and video calls.
According to a spokesperson for the platform, the service not only allows fans a more intimate relationship with their favorite models, but also provides another revenue stream for adult industry professionals.
"Fans now have a better method to connect in real time with adult stars and online models using their mobile devices," said Customs4U Chief Executive Officer Tim Stokely. "This is also a great way for adult stars and models to interact with their fans more efficiently, whether they're at home or away. The video calls are one-on-one video sessions, much like those done through Skype."
The new software allows fans to go online via desktop PC or mobile device, determine whether the object of their affection is available, buy connection time and then connect instantly. If a model is not online, the fan may request a session at a time and date he prefers. Models accept or reject the proposed appointment.
Models using the service may set their own prices and set call durations they prefer. Models also may set a schedule, automatically turning their status to online at the times they are available for calls.
"We are always looking for new and exciting ways to allow adult performers to monetize their brand," Stokely said. "Performing in adult movies is an integral part of launching one's career, but growing their brand and fan base now requires performers to connect with fans through a diverse array of platforms like social media, custom videos and our call service."
Customs4U.com offers an international roster of more than 1,250 models who provide video clips made to consumers' specifications. Erotic fantasies available include ass worship, ball busting, cuckoldry, foot fetish, penis humiliation and smoking.
The site's affiliate program allows webmasters to create their own commission structure.
Comments are closed.