Affiliate Promo Pays 5 Euros per App Install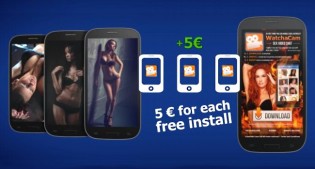 BRATISLAVA, Slovakia – Convincing end-users to install a live-webcam app on their Android-based mobile devices could net affiliate webmasters a significant holiday bonus.
Through Dec. 31, mobile affiliate program First Mobile Cash will pay webmasters 5 euros per installation of the WatchaCam app. The promotional rate is five times higher than the standard of 1 euro per installation.
The offer applies only to Austrian traffic.
WatchaCam is a free download that connects users with a live video-chat network optimized for mobile interaction. Users pay within the app for extra services like explicit private conversations.
"The recently launched live-cam Android app is a great monetization tool for WiFi and operator Android traffic, as the demand for interactive porn on mobile is growing fast," said FMC Director Rene Pour. "This promotion offers our affiliates a generous payout incentive with the maximum potential earnings they can get from Android traffic."
For more information or to sign up for the promotion, email Affiliate Manager Oliver or the sales support team.
Comments are closed.